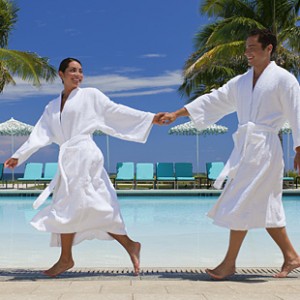 Hospitality with a Flourish
As the purchasing manager of a luxury hotel or destination property, it is important to implement certain strategies when it comes to retaining guests for future getaways. One of the most overlooked but important aspects to a positive guest experience is providing the little flourishes that tell a guest that the hotel's management went the extra mile. One very important flourish is providing luxury bathrobes. Easily customizable, our bathrobes will wrap your guests in comfort and style, with a subtle reminder of the source of all their comfort in the form of an embroidered logo or monogram.
Lounging in a Beautiful Bathrobe
We at Boca Terry are committed to providing solutions for all your property's needs. Whether your outfit requires luxury hotel style bathrobes suitable for your property's spa or bathrobes that are more appropriate for en-suite lounging, we are your go-to company!
Industry leader for a Reason
As an industry leader we are committed to providing excellent merchandise resources for all budgets and allocations. Because of this we are constantly updating our website with sales that will help you as the purchasing manager, stock up on what we like to call the "luxurious essentials."
Luxurious Essentials are Essential to a Thriving Business
Because luxurious essentials are just that, essential, it is important to know exactly what message your hotel is trying to convey to the guests. Sophistication? Comfort? Relaxation? All of the above? These can be accomplished with robes like the classic kimono, or fabrics like terry cloth or velour. The possibilities are endless. Because we are based in the United States and regulate all of our worldwide production plants to exacting standards, there is no need to ever worry about quality. All of our merchandise is quality controlled and undergoes rigorous inspection before shipment. That is our promise to you!
Customization is Key to Success
We offer numerous customization options when it comes to color, style, finishes and monogramming so that even your robes are able to express the personality of your brand. When a luxury property or hotel has a need we are always there to fulfill the demand. Leading the industry is important to us and we pride ourselves on going the extra mile for our clients and future customers.
Luxury hotel style bathrobes are beautiful and ultra absorbent and can be used in any lounging situation, whether your guests are lounging poolside, relaxing at your spa, or just desirous of curling up in a comfortable, sumptuous robe after they step out of the shower. They truly are the most versatile of all the bathrobes that we carry at Boca Terry.
At Boca Terry, we are committed to the success of your business and are available to answer any and all questions about our products. Please don't hesitate to contact us with any questions. Our online form can be found here or you can feel free to call us 877.420.6001. at to discuss the perfect solution for your hotel's needs.
Share this item with friends