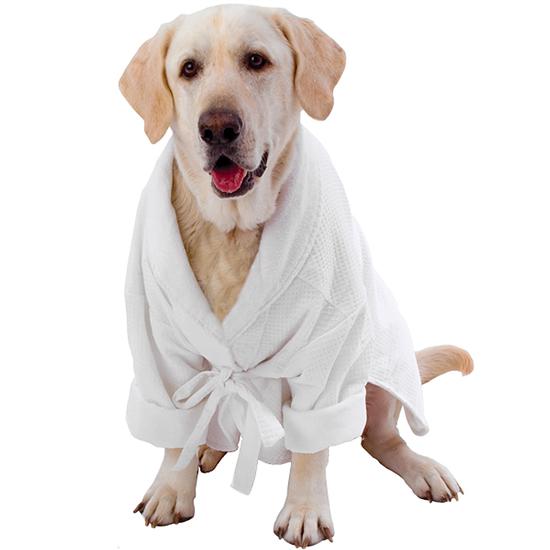 Today more hotels are recognizing that guests often enjoy going on vacation with their dogs. As man's best friend, what could be better than bringing your canine along to share the fun, and finding a puppy friendly hotel is not as difficult as it once was.
Just because you're traveling with your pup doesn't mean you must forfeit comfort and attention, with all of the amenities that this implies. Finding a luxury robe at a puppy friendly hotel should not be an anomaly, but instead an added benefit, which in turn adds infinite dimension to your brand.
Good Robe vs. Great
Our Boca Terry bathrobes are known for their elegance, style, and extraordinary feel. Crafted by the best in the industry, we make sure that every single piece that leaves our factories has been tested and approved for a myriad of elements, all of which makes the difference between a good robe and a great robe.
Reaching Perfection
We make great robes and we are proud of the fact that so many hotels around the world are recognizing the importance of what we do. Our constant desire to reach greater perfection with our products is reflected in the types of hotels that are reaching out to us.
Contributing to Puppy Friendly Hotels
Among these top tier hotels we are finding that many of them are becoming puppy friendly. Because we are huge animal lovers here at Boca Terry, it makes us happy when we know we are contributing to something so generous and embracing.
Exceptional Custom Design
Our on-trend bathrobes cover a wide range of styles, including the standard terrycloth, our unique Waffles line, the Microtec and the Microterry, and more, all of which are ideal for after shower, poolside, by the Jacuzzi, sipping cocktails at your outdoor bar, or in a spa setting. Made for men and women and coming in a one-size-fits-all shape that makes everyone look good, we are also famous for our exceptional custom designs.
Keeping a Smile on Your Guests' Faces
When you place your logo on a bathrobe, you are creating a kind of private club through the emblem. If you have a boutique in your hotel or on your website, a custom bathrobe is one of the best ways to advertise your brand. You might even want to put an embroidered "puppy friendly" reminder right there on the front, just to keep a smile on your guests' faces throughout their stay and beyond.
Delivering the Best Service Possible
A puppy friendly logo is also a great way to improve your guests' reviews. Nowadays all of us in the hospitality industry are aware of how important it is to deliver the best service possible, because in the smallest details lie the most telling tales of how you treat your customers.
Contact Us
Let our design specialists help you tailor an original look for your bathrobes. For more information, contact us at (877) 421-6001.
Share this item with friends