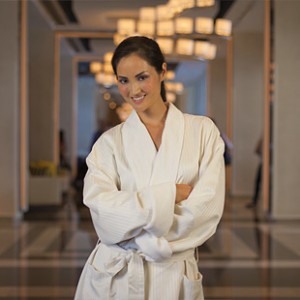 When you think of a bathrobe, what comes to mind? Do you think of luxury, comfort, sensuality and quality? If these are not the first words that pop into your mind when you think about your bathrobe, you are wearing the wrong robe.
Boca Terry luxury bathrobes were made to bring people to a state of luxury nirvana. Whether you prefer velour, satin, microfiber, or cotton, Boca Terry has the luxury bathrobe guaranteed to bring you to that special place in your mind that only the utmost in comfort can provide.
Why Boca Terry luxury bathrobes?
Boca Terry luxury bathrobes are available in many different styles and textures. Waffle and checkered textured bathrobes are some of the most popular. They are warm and soft, providing the wearer with a new level of comfort other bathrobes made from fibers of lesser quality wish they could provide.
For a bit of extra warmth, hooded bathrobes are the perfect luxury bathrobe to wear in the evening on the deck or porch. Whether you are in your urban home environment or sitting on a swing at a beach house, Boca Terry luxury hooded bathrobes will keep the chill away while you relax alone or in the company of your lover.
For a more sultry luxury bathrobe look, the kimono style is the perfect choice. Lightweight cotton woven into a waffle (choose from basic, seashell, or diamond waffle patterns, as well as a mixed pattern) make an easy to wash and dry luxury bathrobe that is ideal for lounging in the home or by the pool. The kimono cut is a sensual alternative to your everyday bathrobe. The Boca Terry luxury bathrobe is the ideal piece to pack for a relaxing getaway in the company of your significant other.
If you are planning on giving the gift of a Boca Terry luxury bathrobe, you have the option to monogram the robe for a personalized touch. Imagine the happiness on your partner's face when they receive the gift of cotton comfort tailored to their specific style.
Boca Terry is not only a provider of high quality luxury bathrobes; we also specialize in towels, slippers and other spa accessories. If you own a hotel or bed and breakfast, Boca Terry can help you with a wholesale account. Boca Terry gives you the opportunity to provide the comfort and security of luxury bathrobes and other textiles for your establishment and visitors.
When looking for comfort in a real luxury bathrobe, remember cotton textiles are the finest available. Cotton fibers are grown with love and expertise, just as the products made from these exquisite fibers are purchased with the same sentiment. Give the gift of luxury or treat yourself with Boca Terry's luxury spa bathrobes.
If you have any questions or looking for more information, please do not hesitate to contact us.
Share this item with friends