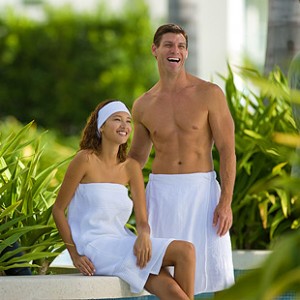 Whether you own a hotel or spa or are simply hoping to create a spa atmosphere at home, a luxury spa wrap is the perfect companion to a day of relaxation and rejuvenation. With a spa wrap, you or your customers can enjoy being pampered in complete comfort. Boca Terry's affordable offerings, make a great investment for your hotel or spa, a great gift for men or women and a great bath time accessory to help you relax in your own home.
What Are Luxury Spa Wraps?
When you jump out of the shower, head to the steam room, or prepare for a relaxing swim or session in the hot tub, the most natural thing to do to cover up is to wrap yourself in a towel. However soft your towel may be, wrapping yourself in a towel is not always the most comfortable option. Towels rarely stay wrapped properly. You are almost always forced to tug and pull at your towel, trying to get it to stay in place. A luxury spa wrap solves this problem. Boca Terry's wraps are crafted using elastic and secure snaps, so it stays in place no matter how much you move. Luxury spa wraps are also made of the softest, most comfortable materials, including terry velour and microfiber so that they never get itchy or irritating. These spa wraps make excellent contributions to the home or professional spa because they are not only comfortable, but they are also practical. When people are wearing spa wraps, they feel more comfortable interacting with others because they're not worried that their towels will come loose or slip off.
How Can You Find Luxury Spa Wraps On Sale?
When you purchase luxury spa wraps from Boca Terry, you can find both affordability and high quality in your online shopping experience. Boca Terry's selections of luxury spa wraps in the finest materials are at both wholesale and retail prices. These high quality wraps start at only $16.00 retail for an individual wrap and are offered in both men and women's styles. The good news is that there are even more savings for those shopping wholesale.
Luxury spa wraps make an excellent choice for both individuals and companies. Although they represent only a small detail, they can go a long way in making any spa or bathing experience more enjoyable and luxurious. When you purchase luxury spa wraps from Boca Terry, you benefit from something luxurious at such an affordable price. Luxury spa wraps from Boca Terry add an excellent touch and provide the highest quality spa wraps without breaking the bank. If you're ready to experience an excellent home spa day or to offer a complete comfortable spa experience for your customers, Boca Terry has the perfect spa wraps for you or your establishment.
If you have any questions or looking for further information, please do not hesitate to contact us.
Share this item with friends