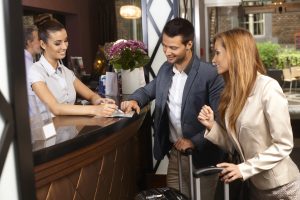 You can do it by focusing on these five areas
To say the wedding industry is lucrative is a bit of an understatement. Every year in the U.S., there are about two million weddings, and the average cost is over $26,000. You can do the math to figure out exactly how much money is spent altogether.
More importantly for hotel owner is this statistic: The average number of guests who attend a wedding is 120. And since many folks come in from out of town, they'll need a place to stay. If you market your hotel as the destination for wedding guests, you'll be able to snag some of these bookings, and you can live up to your great reputation with these tips:
Wow them even before they arrive
In the time between the booking and arrival, there's an easy thing you can do to get people excited for their stay. To confirm the booking, you should send an email or text message a week or so beforehand. Making it personal by adding their name and letting them know you're looking forward to seeing them offers a warm welcome and makes guests feel good even before they've stepped in the door.
Show them you care
As long as you know people are in town for a wedding, you can tailor their stay around the event. And your goal should be to make their lives easier. Inevitably somebody's going to forget something, and printing up a list of useful places like boutiques, tuxedo rentals, and gift shops along with directions from the hotel would be appreciated.
Think about the children
Having kid-free weddings is becoming trendy these days, but that's not feasible for everyone. If your guests are bringing children, make sure their stay is just as good for them as their parents. Having books or a video game system in the room could make them feel right at home. Also, give parents a list of kid-friendly events or venues in the area.
Be sure your tech is on point
Most people don't go anywhere without at least one tech device, and in order to take pictures or make recordings at the wedding, you know your guests will be bringing theirs along. This is why you need to have as many outlets, plugs, and charging stations as required. Also, don't forget about WiFi. If folks can't connect to the Internet immediately, you'll be hearing from them.
Make comfort a priority
Whether they've had a long day of travel or are just tired from the festivities, at the end of the day your guests will want to relax. This is where your hotel can shine. And while you may have luxurious comforters, blankets, and pillows, you shouldn't stop there. Offering other items like slippers and ultra-soft towels and bathrobes will put the cherry on top of the relaxation sundae.
With the right tactics and amenities, your guests will love staying at your hotel and will want to return. But if your comfort items need an upgrade, get in touch with Boca Terry. Our bathrobes and towels are of the highest quality, which is why they are preferred in many five-star hotels and resorts around the globe. Contact us to learn more about our wholesale pricing options for your property.
Share this item with friends