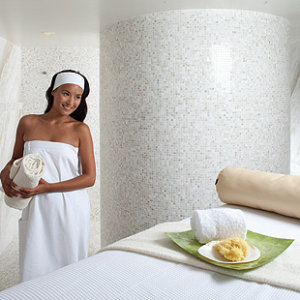 It is no surprise to Boca Terry that the inclusion of spa or spa/fitness activities can actually influence the success of a big meeting or conference. Nurturing the physical and psychological wellbeing of attendees does wonders for one's attitude, concentration and overall ability to meaningfully contribute to the objective at hand.
While this is a gradual movement being seen in hotels across the United States, those who have caught onto the benefits are incorporating features like offering chair massages between meeting or during breaks, or commissioning spa therapists to provide short massages at hospitality suites for check-in and registration.
Taking it a step further, some meeting planners are employing the concept of "spa-ceptions." A newly conjured term in the hospitality industry, "spa-ceptions" entails the utilization of spa receptions for meeting groups inside a hotel. The physical act of being in a spa, and now, having a meeting in a spa, produces all of the desired and noticeable affects of the spa experience: reduced stress and increased relaxation.
Knowing how much better professional teams work when stress is mitigated, planners are more likely to achieve their goals in this environment. The possibilities are endless for bringing such attendees to a spa as the trends range from anywhere to 15-minute foot scrubs at the reception to providing custom aromatherapy blends for individual meeting attendees. Really, it all comes down to how creative you can get and sinking yourself into the minds of your guests.
Since this isn't a reality for every meeting, you can achieve the same goals by including spa elements in your meeting venue. To capture the relaxation and serenity derived from a spa experience, meeting planners can do wonders for their attendees by doing something as simple as refining the lighting or adding music and scents. And thankfully, this can all be done at a low cost!
To achieve such goals, consider using aromatherapy candles, adding natural light to a meeting room, or having breaks outside. By catering to the physical and psychological needs of meeting guests, you may find that you will get a lot more accomplished in terms of their satisfaction in such a short, condensed amount of time.
Share this item with friends