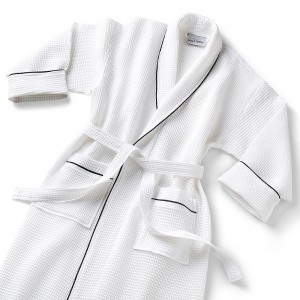 A sudden trip to the hospital, a visit to the doctor, or an extended stay in a care facility is not the most settling experience for many patients. Several people have a fear of hospitals, doctors, and the procedures conducted by them. That is why it is crucial for hospitals, doctors, and dentists to help patients feel at home in every way they have the ability to do so. Find out how Boca Terry towels and robes can help in this endeavor!
Percentage of Patients Afraid of the Doctor
According to WebMD, an estimated 20% of patients suffer from "White Coat Syndrome." This is a strong fear that overcomes patients while attending an appointment or being sent to the hospital. This fear results in a spike in blood pressure. While this percentage seems relatively low, it is important to understand that this means one out of every five patients suffers from this fear, making it quite common.
Understanding Patient Fears
A patient's fear can often come as the result of an uncomfortable or otherwise bad experience during an appointment, especially during childhood. Contrary to popular belief, White Coat Syndrome is not often unwarranted. Because of this, more hospitals and doctors are doing everything in their ability to assuage these fears by paying greater attention to patient comfort.
Negating Nerves
How can facilities make patients feel like they are lounging at home, in the comfort of their own living room? One of the most influential ways that hospitals are tackling patients' fear is by implementing the use of comforting, high quality towels and robes. You might question why they have begun offering these items, as it might seem random upon first thought.
Imagine Your Home
When you picture your household, what is it like? Your home might be a cozy cottage; maybe it is comprised of a massive mansion with extra security; or, maybe your home is a regular rancher—all in all, it doesn't matter. The most important factor that makes a regular building someone's home is its ability to be a comforting place to the inhabitants.
Then, what does this mean for emergency care facilities, doctor's offices, and other similar establishments? These offices should implement the use of as many homelike items as they can. For example, in their own house, patients wear soft pajamas and a cozy robe; they warm up their toes by stepping into a pair of slippers; after a shower, they wrap themselves in a clean, plush towel.
Imagine if this "home" that we describe was filled with uncomfortable paper robes and small, folded, blue-hued paper towels—that wouldn't be much of a haven at all. This is why it is becoming more and more crucial for establishments in the medical sector to avoid these items when possible.
Don't Test Your Patients' Patience
It's time to stop testing patients' patience. In other words, it is time to stop covering them in cheap paper products. The moment patients no longer have to wrap up in paper thin robes and wipe their faces with scratchy, harsh paper towels is the moment they will finally feel more at home than ever before! Battle these everyday comfort killers by offering guests freshly washed, plush robes in their room and soft, sturdy, combed cotton towels.
Help Long Term Patients Feel Extra Special
A hospital or doctor's office should have one goal in mind: to keep patients' needs first. Customizing a robe to fit a patient's tastes will make them feel right at home, especially if they are going to be enduring a long stay at the hospital. Embroidering their name across the back of a new robe, or customizing a paisley robe pattern in their favorite color is a unique way to remind visitors how much you care.
Combat the Cold
Another annoying part about going to the hospital or the doctor's office is the temperature—it is always freezing there! Why subject patients to frigid facilities? By providing guests with warm robes, they will have the ability to adjust their discomfort accordingly.
More Ways to Keep Calm and Carry On
Believe it or not, it has been proven that hugging a fuzzy stuffed animal can help relieve stress—even in adults! Often, patients will not have easy access to their stuffed animals, or they might be too embarrassed to let their childhood treasure see the light of day in public. Patients don't want to hug a teddy bear? Well, imagine the calming effects a teddy-bear soft, expertly crafted, plush robe. Patients don't have to let their nerves get the best of them anymore; they can keep calm and carry on with treatments or recovery in a dreamy robe.
Make Your Name Known
Just because we offer white robes and towels does not mean you are limited to this option. Customizing robes is a good way to promote your company. Gifting patients with a high quality robe that is embroidered with your company logo will instill fond memories of their stay. They will recall the simple, yet thoughtful act from your establishment each time they don their robe. Plus, their friends and family might notice the robe, giving them an opportunity to discuss your company's outstanding customer service and patient care.
Boca Terry; Beautiful Towels and Better Robes for the Best in Patient Care
We believe that homes are a soothing place where individuals feel most comfortable. While it is impossible to bring a patient's entire home to your establishment, it is highly feasible to offer aspects of their residence. If you want to help facilitate patient comfort and make them feel more at home, consider implementing the use of Boca Terry towels and robes. We take pride in our high quality, well-crafted, articulately designed products. For questions about our products, for pricing, or to order wholesale, contact us, today!
Share this item with friends