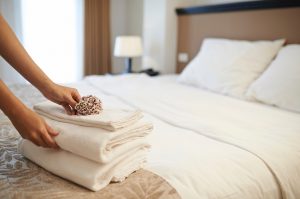 Building better hotels, one step at a time
You've done everything you can think of to make your hotel the best of the best. But with so much competition out there, it's easy to wonder if you've taken every possible step to make it stand out from the crowd of options in the industry. In need of a few ideas for how to make your hotel even more impressive? Check these out:
1. Take detailed guest surveys (and use them!)
Making your guests happy shouldn't just be a guessing game — and if you're in the hospitality and service industry, providing the best service and amenities to them is vital. So make sure to get and actually use their input on how you're doing.
Give them the opportunity to deliver feedback on the customer service, hotel amenities, ambiance, food offerings, and even less obvious things like parking availability or valet parking service. Equipped with all that info, you're bound to learn new ways to make a real connection with your guests and please them each step of the way.
2. Don't get outdated. Get updated
It's easy for a hotel to start to feel outdated. Between poor carpet choices, old-looking curtain selections, and dated technology, you need to make sure you're aware of what can stay and what's got to go in your establishment. After all, your guests are watching each step of the way.
While it's probably not necessary to make annual overhauls, it's important to have an annual analysis of your entire establishment — from the systems in use to the décor — to make sure things are relatively up to date. First impressions matter, and your guests want to see something clean, updated, and modern with the latest in hospitality technology (for example, a feature that's as simple as booking from an app for honeymoon registries can make a big impression).
3. Put comfort first
Let's take a moment to think about what really matters in the hospitality industry. Actual hospitality and service are the cornerstones. Remember, you're hosting each guest on a trip — and it's up to you to make sure their stay is a great one. Second, comfort is critical. No one wants just any old random place to stay (and if they did, they'd go camping). No, your guests come to you for a pleasant and comfortable experience. They want to feel special. Pampered. Cozy. At home. And it's your job to help them with that.
So, get the most comfortable pillows available. Buy them the plushest luxury bathrobe around so they can spend their down time in utter bliss. Splurge on some sweet slippers that'll keep their toes warm and clean as they spend time in your hotel. Whatever you do, make comfort a priority. One of the easiest ways to make a difference is by contacting Boca Terry. From beautiful bathrobes to soft spa accessories, we've got everything you need to make sure your guests are cozy.
Best of all, our luxury items are available at an affordable wholesale price. Contact us today with any questions or to place your order.
Share this item with friends