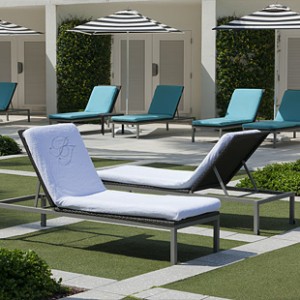 As the supplier for many of the nation's casinos, our lounge chair covers are gaining their reputation for being not only aesthetically pleasing, but also exceptionally durable. With our attention to beauty and function, we are not surprised that our reputation precedes us as we gain greater word-of-mouth with each season.
Comfort and Style
Comfort and style are what makes a good lounge chair cover, and our 100% cotton products are the perfect example of ultimate absorption combined with exceptional craftsmanship. With every loop and stitch supervised, our products are always exposed to the most rigorous scrutiny, guaranteeing quality for each piece. Increasing the Reputation of Your Brand Your casino is defined by each and every element you choose to place in your environment. When all of your materials are of a piece, whereby they stand for luxury, carry your unique logo, and show an undeniably caring attention for your guests, you help to increase the reputation of your brand. In these days of heavy competition, paying attention to these details can turn your establishment into a buzzword that resonates with your clients, as well as with future guests.
Easy to Wash and Durable
A good lounge chair cover means more than just creating a pristine surface. Keeping suntan lotion and oil off furniture, providing material that is easy to wash, and assuring durability are other essentials that determine the value of the product you choose.
Cotton Terry or Cotton Velour
Our 100% cotton terry covers come with a hooded elastic top and finished edges that are hemmed on all three sides. Our 100% cotton velour (with or without variegated stripes) is made with a fitted hood with cotton tape to finish off the edges. Created to fit most lounge chairs, both models eliminate the dreaded slippage that occurs with draped towels while affording your clients the utmost in soft comfort.
Guaranteeing Durability and Strength
Our covers are created at our own factories in China, Columbia, India, Pakistan, and Turkey. In each location, we oversee all aspects of production, from purchase of the yarn all the way through to the creation of the final product. For us, every stitch and loop is of paramount importance, as it is the measure of how each piece will stand up over time. With each combed cotton fiber, we make sure that looping is as dense as can be in order to provide the most absorption of moisture, and that we have minimized length in order to guarantee the greatest amount of strength.
Respecting Your Bottom Line
Many of our clients comment on how expensive our products look. This is true, though the price belies the fact. With no middleman to interfere with costs, we are able to provide our customers with luxury materials affordably. We respect your bottom line, and want to make sure that you can order what you need without having to compromise.
Including Your Logo
One of the most important elements in your presentation is the inclusion of your logo wherever possible. Your logo is your best way of promoting and advertising your casino, and our design experts are ready to help recreate your design for placement on the lounge chair covers you order from us. With customized embroidery, we will make a flawless reproduction to place on each cover, providing the perfect horizontal billboard with which to flaunt your name. Making the Right Impression Making the right impression on your guests is tantamount to increasing your ratings. As we all know, sites like Trip Advisor are attracting more and more customer reviews, and these really do count. When visitors to your casino can boast of your fine amenities, you stand a very good chance of attracting more clients, as everyone wants to feel pampered and surrounded by style.
Our Exceptional Inventory
Boca Terry has many years experience perfecting our manufacturing and production process in order to give you the best of our knowledge. With exceptionally made products such as bathrobes, towels, and spa accessories, our clientele ranges from casinos, to spas, hotels, cruise lines, and the healthcare industry. Recognizing that our fabrics, styling, and detailed attention to every aspect of creation are of the highest caliber, establishments dedicated to providing the utmost in gracious hospitality are focusing on our exceptional inventory.
Your In-House Boutique
If your casino features an in-house boutique, there is no better promotion than providing a Boca Terry lounge chair cover featuring your brand logo on the surface. If your guests have appreciated the feeling of lying on a cloud, then they will want to bring their own piece of heaven home with them once they leave your establishment. Once settled in on their own lounge chair, the cover will perform its advertising purpose, as guests of your guests will reap the benefit of its comfort. And so a chain reaction begins, with these guests coming to you for the delight of what you provide.
Contact Us Today
Other Boca Terry products that can fit in well with your casino setting include bathrobes, towels, and slippers. For more information on our products, as well as how we can design the perfect logo for your lounge chair covers, please contact us today by calling (877) 421-6001.
Share this item with friends