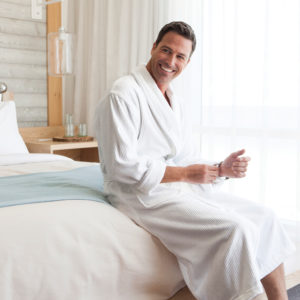 It's that time of year when men's fashion finally gets its chance to shine. That's right: Father's Day is just around the corner. Whether you're looking for a great gift for dad, something special to treat the men in your life, or just the right robe for your more masculine guests, a Boca Terry Luxury Bathrobe is the perfect choice. Check out these styles he (and we) can't get enough of:
Velour stripe
The velour stripe bathrobe makes a great gift for any man who appreciates comfort – and style. Fit for a king, this luxurious and elegant bathrobe is soft, fuzzy, and the perfect accessory for a manly getaway. The cozy roll-up collar and cuffs add strength to the look. Although it's a unisex bathrobe, the double belt loops make it great for people of all heights, as wearers can adjust the belt easily and accordingly. Best of all, the generous pockets mean he can carry everything he needs without worry, whether that's his cell phone and keys or, heck, maybe even a giant utility knife. You never know!
Microfiber bathrobe
The microfiber bathrobe is another look he'll love wearing. The shell is made with a luxurious blend of polyester and satin, giving it a royal, classy feel. And the 80% cotton, 20% poly French terry-knit lining is soft enough to make anyone love it. Best of all, you can really kick up the masculinity by choosing a strong or bold color to match the wearer's personality. Whether a dark and mysterious navy or a bold brown, he'll love sporting this bathrobe.
Shawl waffle bathrobe
When the hot summer months strike, the guys in your life might be looking for something a little more lightweight to relax in on a sunny Sunday. Cue the shawl waffle bathrobe — an airy option fit for the season. Best of all, you can choose from two different waffle patterns (classic waffle or diamond) so he can really let his style shine. Make it unique by opting for the regal shawl style. Still hoping to add a little extra flair to this bathrobe? Piping is also available, to give it just the right pop of color.
No matter what style you choose, he'll love his top quality bathrobe
Because Boca Terry only settles for the best. We're not just committed to capturing top style trends — quality is our first priority when it comes to designing and manufacturing our bathrobes. Thinking about stocking up? Contact us today for a wholesale quote — we'd love to hear from you! Want to go smaller scale? We offer all of our bathrobes in retail pricing, too!
Share this item with friends