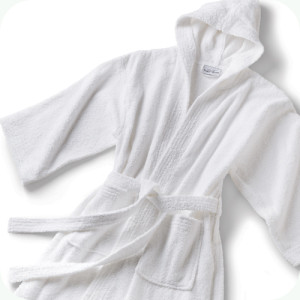 After a long nine months of morning sickness, stretch marks, extreme body growth, pain, discomfort, excitement, and fear, it is almost time for the baby to arrive. As you sit in the hospital bed, the doctor reviews the procedure, informs you of what to expect, and prepares the tools he will use. As you wait to be induced, you sit on the bed in your beautiful, comfortable, new maternity robe.
Pregnancy is Hard Work
Due to the discomfort, stress, and agonizing pain during labor, it goes without saying that a warm and fuzzy robe can de-stress a patient during labor.
Growing Popularity
More and more hospitals are utilizing Boca Terry bathrobes in different wings of their building. Everyone deserves to experience the extreme relaxation promoted by a cozy robe. An increasing number of hospitals are growing to understand this, thus more are choosing to incorporate our robes in their maternity wards. Want to know what makes our robes stand out? Keep reading to learn about the benefits of our maternity bathrobes.
Frequent Visits
Women during pregnancy feel like they live at the doctor's office and hospital. From hospital tours to OB-GYN visits, they become more and more familiar with those same clean walls and waxed floors. With each visit, make her feel more welcome and comfortable by providing a fresh, clean robe.
Provide Her with a Homelike Experience
That being said, after dozens of doctor and hospital visits, the maternity ward becomes her home away from home. While she is away from home, it is a hospital's job to make her feel like she is not; anything a hospital does to make her feel relaxed and at home is crucial. During one of the biggest moments in her life, she needs to feel calm, cool, and collected. After all, bringing a life into this world is a big job!
Become a Hospitable Hospital
In fact, make your patients feel even more comfortable than they do at home! Pamper your guests, and make them feel like royalty. By providing maternity bathrobes, doctors and nurses help to improve overall patient experience.
The Importance of Online Reviews
Every business seems to face the fateful online review. Due to today's technology, even hospitals are no longer immune to online reviews and ratings. Women have nine months to decide at which hospital to deliver their child; once they have their baby, a patient's experience may be posted for thousands to view.
Benefit Your Business
As long as you do everything you can to ensure she has a positive experience during such an important moment, you will not need to fear the influential online star rating. Make your service and amenities highly desirable; provide your patients with a robe! Make your hospital shine as much as the faces of the proud new mothers inside.
Her Comfort is Crucial
Gone are the days of thin, light paper robes and covers clipped around your patient's body; this sort of sterile precaution leaves even the environment sterile, lifeless, and cold. There is nothing soothing about wearing a thin sheet of paper. As a thank you gift, offer your patients a plush, new robe. When she brings it home, she will always remember the outstanding experience at your hospital; this robe will forever commemorate the brand new bond between her and her child.
Make Her Feel Special—Customize Her Robe
Customization is a key component to ensure that she feels beautiful during her stay at your hospital. Not only will she have access to a warm, plush robe, but she won't have to stare down at plain, white threads, either. Whether you design a pretty paisley pattern, a feminine floral, or a sassy stripe, a bold robe will make her feel pretty (even when she keeps saying that she feels as big as a house).
The Cold War
A common complaint of hospital patients is that their room is too cold. While the hospital might be keeping the room chilly for a reason, that does not mean their patients should suffer with discomfort. Avoid patient complaints and end battles between the patient and hospital personnel. By providing patients with a plush, warm robe, guests have the ability to control their own temperature and comfort.
A Mother's Perfect Pick
We all know she wants a robe; now, which robe is the perfect pick for your maternity ward? Most of our robes are available in "one size fits all," so pregnant women should have no trouble slipping into one. However, many of our robes are also available in size XXL for the biggest baby bellies. Let's take a look at the best robes hospitals can provide for their maternity patients.
Hooded Bathrobe
During labor, many women experience hot and cold flashes. Because of this difficulty, our Hooded Bathrobe is an excellent selection for maternity wards. When your patient is experiencing a cold flash, she can bundle up and trap her body heat with the extra large hood. When she begins to overheat, she can remove her hood and easily loosen the robe. This robe is made from 100% combed cotton terry, which makes is very absorbent. This will keep her dry, even when she begins to feel overwhelmed by heat.
Pink Kimono Satin Robe
Wearing this robe during her stay, she will feel as beautiful as ever. This light, soft, silky robe ensures that she won't feel bogged down by the heavy feel of other many robes. The satin against her skin will soothe her during a difficult labor experience. The pink color is lovely and feminine; every lady will love it!
We Will Work With You
Do you want something even more maternity friendly in size and shape? We can always work with clients, no matter the size of your company. If you have a custom product in mind, just contact us, and we will have our talented, professional designers work with you to come up with a conclusion.
Your Best Bet
Because of our customization and competitive wholesale pricing, Boca Terry is the best choice for maternity bathrobes. Are you ready to enhance your guests' comfort and trust? Contact us for pricing, and to order excellent maternity robes today!
Share this item with friends