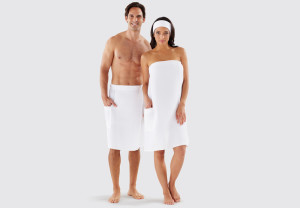 We have all heard of spas and medical centers—but have you heard of a medi-spa? The interesting thing about a medi-spa is that it delivers the best of both worlds. These modern marvels offer the perfect combination of soothing relaxation and healing to visitors and guests.
What is a Medi-Spa?
If you are concerned about a condition, always be sure to see a medical professional. Many medi-spas have trained medical professionals on campus. A medical spa, or medi-spa, is a facility that operates under the supervision of a licensed health care professional operating within their scope of practice, onsite at all times. This practice must be under their supervision during all hours of business. A medi-spa also has a staff that operates within their scope of practice, which is defined by each person's licensing board if a license is required.
Medi-spas specialize in traditional spa services as well as medical and cosmetic services.
Treatments
Medi-spas typically offer an array of treatments that a regular spa or massage therapy center cannot. From facials and massages to wrinkle fillers and pigment treatment, medi-spas take your spa trip to the next level. Here is a full list of common services found in your average medi-spa:
Acne Treatment
Botox Injections
Microdermabrasion
Peels
Laser Hair Removal
Tattoo Removal
Scar Revison
Photo Rejuvination
Laser Vein Therapy
Age and Brown Spot Removal
Skin Tightening
Improving Your Medi-Spa
If you own or manage a medi-spa, there are certain things that your guests and clients will expect out of your establishment. That is why we are providing this list—to ensure that you are prepared to meet and exceed client needs and expectations. Medi-spas should adhere to the following guidelines to improve guest experience:
1. Provide Great Service
As you must know, service is a pivotal part of business structure that can make or break your company's success. You might have a wonderful product or service, but poor customer service will lead to unhappy customers who will not return or recommend you to others.
2. Offer Unique and Useful Services
You know the typical services found at medi-spas. Why not think outside of the box to set your establishment apart? Think of new ways to serve your guests with unique and useful services.
Consider installing a sauna or steam room, a hot tub, or even a therapy pool. It might be useful to hire a full time chiropractor who is available to offer guests services they would find at a chiropractic office. Experiment and find the right mix for you and your current and future customers.
3. Always Ensure Outstanding Amenities are Available
Amenities are a crucial part of your establishment. You need to stand apart from the other medi-spas in the area with phenomenal, luxury quality amenities. You don't want to settle for less when you can provide the best. Consider stocking up on an affordable luxury brand like Boca Terry.
Why Boca Terry?
Our regular customers can vouch for us on this—quality is always a top priority when it comes to our products. We are hands-on with the manufacturing and design process, which means that we can control the quality of each item we attach our name to. We produce some of the finest, most affordable luxury amenities in the industry. Not sure where to begin? Here are some great options for your medi-spa.
Some of Our Favorites
Here is a look at some of the most important amenities you can provide to your guests, as a business owner.
At a medi-spa, there should be no shortage of bathrobes within the establishment. Guests will use bathrobes to cover up before, during, or after a procedure or service is completed.
Spa Wraps. Remember, you are more than a medical facility. You are also a spa. That means that relaxation and soothing services are part of the package. A spa wrap is an excellent solution for guests hoping to reach a new level of health, happiness and comfort at your spa.
The perfect representation of relaxation, slippers offer a door into the blissful land of relaxing and healing. Who doesn't love a good slipper?
The Boca Terry Difference
Invest in the best to impress your guests. Improve their experience with our tips. If you are ready to place a wholesale order, or if you have any questions about wholesale pricing, please contact us today! We would love to hear from you.
Share this item with friends