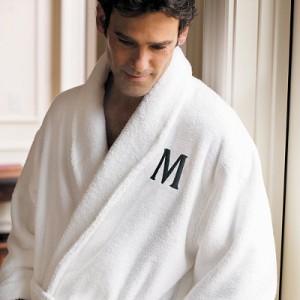 Valentine's day is coming soon, and with it comes the awareness of the bond you share with the man in your life. The romantic in you will be wondering what is the best way to show you care, and Boca Terry has the perfect answer.
Something to Cherish and Love
One of the most unique ways to demonstrate your deep feelings is to give him something unique that he will cherish and love. The gift of a beautifully crafted Terry Cloth robe is not something a man would normally buy for himself, and it is the perfect way to tell him how special you think he is.
Designed for Comfort and Ease
Instead of getting out of the shower, toweling off, and putting on a pair of pajamas or sweat pants, imagine your man draping his body with a thick, absorbent robe designed for comfort and ultimate ease. After a hard day's work, just the thought of coming home to something so opulent and so luxurious will help him enter that perfectly relaxed state after removing his clothing to step into a robe that defines sheer pleasure.
A True Statement of Love
A perfect gift is one where thought has gone into the selection. Think about what a bathrobe signifies: shedding one's skin to enter a calmer frame of mind, letting go of all cares to thoroughly enjoy a sensual state of being, feeling balanced and centered after a shower or a swim in the pool where all is put right again. By buying a robe for the man in your life, you are expressing your desire for him to feel these sensations, which is a true statement of love.
Celebrating Life with an Elegant Approach
Because Valentine's Day is a day of sentiment, where most people think of the object of their desire and find a way to express their feelings through cards and gifts, it is an ideal moment to choose something intimate and dear. At Boca Terry, our bathrobes are designed to help one celebrate life through relaxation and an elegant approach to the simple things that help us get through the day and night.
Impeccable Craftsmanship
One of the beautiful things about our men's terry cloth robes is the impeccable craftsmanship that goes into them. We choose the finest cotton terry, making sure that our looping techniques provide the ultimate in absorption in order to wick away moisture in order to leave the body dry and soft.
Our Dedication to True Perfection
Our attention to every detail is what has made our Boca Terry robes so fashionable and in demand with hotels, resorts, spas, and bed and breakfasts around the world, as well as within our constantly expanding retail division. Every single robe that comes out of our factories is tested for quality, with the finesse of each stitch and every weave a testimonial to our dedication to absolute perfection.
The Shawl Collar Terry Robe
A terry cloth robe is perhaps the most classic example of a great bathrobe and is certainly one of our best sellers. Our shawl collar version features a roll up collar that keeps the neck and back of the head toasty, and roll up sleeves that add a fashionable touch to the already chic design. With double belt loops, your man can easily adjust the robe to fit the proportions of his waist, and with a small loop on the inside of the robe, he can hang it up to dry without having to fuss.
The Hooded Terry Robe
Our hooded terry robes are a dream come true. With their oversize hoods, they are the perfect accompaniment to drying off after a shower, a swim, a nighttime visit to the hot tub, where surely on Valentines Day you will enjoy your glasses of celebratory champagne, or after a workout in the gym. Here again, this model sports double belt loops and a loop for hanging, as well as deep, sumptuous pockets in which he can put his keys, or other sundries.
Give When the Spirit Moves You
Of course you don't have to wait for Valentine's Day to give your man a terry cloth robe. A birthday is another great occasion, as well as your anniversary or even just an ordinary day when the spirit moves you to show him how much you care.
Luxury Robes for Men and Women
Boca Terry has been in the business of making luxury robes for many years, constantly amplifying our inventory with a wide range of exquisite styles that are equally as appropriate for men as they are for women. In fact, most of our robes are made in a uni-sex style, which gives them a certain panache and allows a couple the right to express a "his and hers" attitude to loungewear.
Standing the Test of Time
Known for using the highest quality materials, every robe we carry makes an elegant statement in the sensitivity of its drape and cut. And what is more, our robes are really made to last. Because we are also in the wholesale business where our products are washed hundreds if not thousands of times, we know how to construct them in order to stand the test of time.
A Metaphor for Longevity
This kind of longevity is difficult to find in most bathrobes out there in the marketplace, especially when it comes to terry cloth, which can lose its fluffy nap and become flat and dreary after a while. Our terry cloth robes retain their form, which makes them the perfect metaphor for the longevity that you wish for in the relationship you have with your mate.
Relieving the Stress of Everyday Life
Choosing a Boca Terry robe is not just about your good taste and loving spirit. It is a testimonial to common sense, to understanding the true meaning of comfort, and of giving your man a truly priceless way to find relief from the stresses of everyday life.
Contact Us
For more information on our exceptionally designed terry cloth robes for men, as well as our other styles, please contact us today by calling 877.421.6001 or through our online form.
Share this item with friends