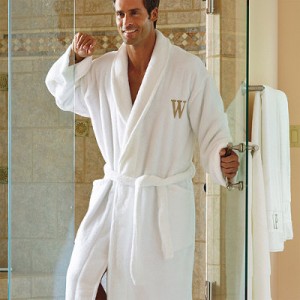 Many of you already are familiar with the high quality of a Boca Terry bathrobe. Today we want to introduce you to a special style that we feature, which is made of a specialty material called Microfiber. Microfiber is a fabric made of extremely fine synthetic fibers that are made for the ultimate in absorption, water repellency, and comfort. Our Microfiber robes are created with great attention to detail, using the level of craftsmanship and design that we at Boca Terry are known for.
A Perfect Fit and Drape
Lined with a 20% polyester French terry knit to create a comfort that is unparalleled, the shell is created with 85% polyester and 15% satin. With generous pockets and double belt loops that allow for adjusting belt height, these robes help to create a perfect fit and drape. Always on trend while retaining a sense of what is the utmost in classical styling, the Boca Terry Microfiber bathrobe makes an excellent choice for a luxury hotel and casino where guests want to feel good while also making a chic impression.
The Perfection of Every Detail
At Boca Terry, we've been in the hospitality industry long enough to know that your brand depends on the perfection of every single detail. It may even be that today it is more important than ever, with so much competition and of course, with the advent of online reviews that guests are encouraged to write. We have found that when your bathrobes are well above standard, the reviews become more outstanding.
Pampering Your Guests
We all know that booking a luxury hotel means a lot more than just planning the needed getaway, business trip, or special event. When a guest makes the commitment to pay for a top tier establishment, he or she expects the best, down to the finest detail. When a guest can put on a robe that creates a sensation of comfort and elegance, they will feel all the more pampered.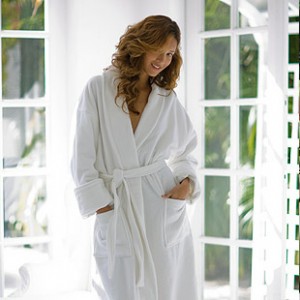 The Comfort of a Well Made Product
And so it becomes obvious that each one of your amenities align with how you wish to present yourself to the public. A good robe will always make a guest feel important, like part of the inside club, in addition to feeling the comfort, contentment, and containment of a well made product.
What It Takes to Make a Luxury Robe Stand Out
Because we are a premier wholesale supplier who provides our clients with factory direct merchandise, we are able to maintain control of every single factor that goes into making our robes so highly prized. Again, our experience in the business for so many years has given us the understanding regarding what makes a luxury robe stand out.
Feeling Proud in A Microfiber Robe
Microfiber bathrobes are one of our top selling styles for hotels, casinos, and spas. Their ability to absorb moisture makes them perfect for poolside, the spa, and Jacuzzi, especially as they are designed to be seen and admired. And because of their exquisite design, they make everyone look good, regardless of their figure or size. Whether in a one-size-fits-all or in plus sizes, we make sure that our robes create a silhouette the wearer will be proud of when sipping drinks by the wet bar, going from one spa treatment to another, or covering up at the pool.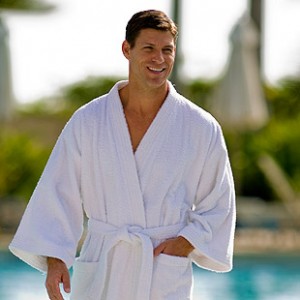 Looking Like Its Made Just For You
And speaking of our sizes, we want to clarify one thing. It may be a one-size-fits-all, but our Microfiber robe will always look like it is made just for you. That is yet another value of the Boca Terry stamps of perfection. Our bathrobes are cut in a classic style, as with all of our other models, that assures an on-trend look using the finest materials available.
Our job is to oversee every piece that leaves our hands in order to make sure that each stitch is made to last. Because durability is so fundamental to a good robe, we want to make extra sure that you have a robe that looks as good as the first day it was worn, no matter how many launderings it must withstand.
Standing By the Quality of Our Brand
Like you, our name is at stake when it comes to the quality of our brand. We stand by every phase of production and manufacture, taking responsibility for every detail along the way. And with our factories located in China, Columbia, India, Pakistan, Turkey, along with a headquarters in both Florida and Los Angeles, we are able to ship quickly to anywhere in the world.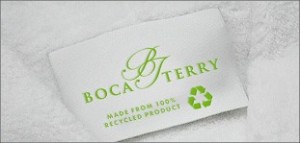 A Customized Logo
Customized with your hotel or casino logo adds presence for your brand, especially if you offer an on-site or online boutique where your guests can purchase their own Microfiber bathrobe, or any other robe you choose to present from our catalogue. Allowing people to remember you well into the future as they wear your robe day in and day out is the best form of advertising.
A Uniquely Styled Robe
High-end hotel and casino clients looking for the best know that the Boca Terry criteria for what makes a good robe are unbeatable. With our expert designers on hand to help you create a logo or design that best suits your brand, you can have a uniquely styled Microfiber robe that will be the perfect representation of your hospitality, as well as your dedication to a beautiful aesthetic.
Contact Us Today
For more information on our Microfiber bathrobes and more, please contact us today using our convenient online form or by phone at (877) 421-6001.
Share this item with friends