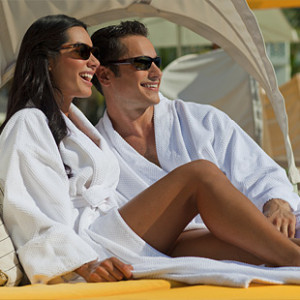 Who doesn't look forward to the feel of a soft robe after a long day? Who doesn't appreciate the feel of true and absolute absorbency after a dip in the pool or ocean? Who doesn't yearn for the sensuality of a robe wrapped around the body when lounging about doing nothing? And who wouldn't love the look of a robe that is sleek and perfectly designed to create a perfect silhouette while sipping a cocktail or impressing one's partner during a romantic evening?
Uncompromising and Affordable Quality and Style
Our Boca Terry original Microtec robes are just the kind of luxury items that everyone appreciates, regardless of gender, age, or size. Ever since we opened our doors way back in 1996, it has been our goal to provide the hospitality industry with exceptional robes, towels, slippers, and spa accessories that exceed other brands in the marketplace.
Our mission to keep expectations high and prices low is what has allowed buyers—not just from the most exclusive hotels and resorts, but also from the more modest B&Bs and Inns—to supply their guests with uncompromising quality and style without worrying about the bottom line. What better way to impress your guests, especially when statistics show that the quality of a robe and towel is surest significant way to rise higher in competitive ratings?
Durable and Long-lasting
One of our many elegant designs, the Microtec robe is crafted from super soft fabric that is ideal for any situation. Known for our infallible ability to select the best fibers, our robes originate from a completely vertical process. We are fully involved in production, starting with the purchase of materials and following through to designing, weaving, sewing, and making sure that each and every piece we put our name on is durable and long-lasting. With attention to each and every stitch and seam, the 100% ultra soft polyester Microtec fiber is made to endure all of the countless launderings undeniably inherent in the hospitality industry.
Strict Attention to Detail
Whether we are using Microtec, terrycloth, satin, or any other material, Boca Terry robes are created with strict attention to detail. Our trained staff is knowledgeable about every process that goes into making our products; this is evident not only in the way we select and create our robes, towels, slippers, and other spa accessories, but also in the custom-designed logos available to help you emphasize and expand your brand name.
Specialized Microtec Robes
Our specialized Microtec robes come with two special finishes: the Pineapple with a raised finish, and the Mini Check, which comes with a flat surface. The Microtec comes in a beautifully elegant Kimono style or with a classically designed shawl collar. The Kimono measures 48 inches long with a 17 inch sleeve, while the shawl collar measures 52 inches long with a 17 inch sleeve. Both styles feature deep pockets to hold various sundries and a loop on the inside for easy hanging. Not to mention, the Pineapple Shawl Collar is made with piping, which adds a classic look to an already lovely design.
Perfect for Your Boutique
Once your guests experience the all-enveloping sensation of a Microtec robe wrapped around their body, they will be clamoring for the chance to take one home for themselves, as well as for their friends and family. If you own an online or in-house boutique, offering clients and visitors the chance to buy one of their own Microtec bathrobes is the surest way into their hearts.
No Need for a Middleman
Boca Terry has warehouses located in California, Florida, the UK, and Hong Kong, as well as our own factories operating in China, Columbia, India, Pakistan, and Turkey. Because we don't use a middleman, you can be assured that you are getting exactly what you order at a fraction of the price we'd have to charge if we were not the sole overseers of all that we do.
Robes for Every Season, Occasion, and Locale
If you are looking for excellent seasonal robes suitable for a wide variety of occasions and locations, such as your in-house gym, pool, or Jacuzzi, the Microtec fits the bill. Chic, trendy, and classically modern, it makes a graceful and practical statement, always boosting the appearance, and the morale of the wearer.
Contact Us Today
For more information on our Boca Terry products and our custom embroidered logos, don't hesitate to visit our website today! For wholesale pricing or to order items in bulk, contact us now!
Share this item with friends