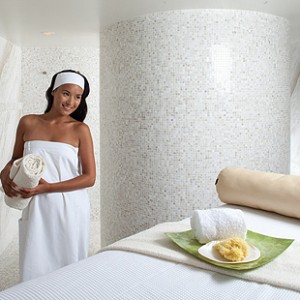 When it comes to getting in and out of the shower, bath, Jacuzzi, or pool and wrapping yourself quickly in something absorbent and cozy, there is nothing like the Boca Terry towel wrap. Unlike draping yourself with an ordinary towel, our wraps are designed to stay in place, giving you a snug fit that allows you to move without worry.
One Size Fits All, Plus the Plus
Created as a one-size-fits-all, we also provide plus sizes as a special order, accommodating those of you with fuller forms. Our conventional size is 24" long for men, which goes from the waist to mid-calf, and 32" long for women, which goes from right underneath the armpit, stopping just above the knee.
Perfect for Monogramming
Our towel wraps are perfect for monogramming. Picture a special logo or design that represents your establishment on each one, ideally placed for brand recognition. If you are a retail client, a beautifully embroidered monogram depicting your initials or those that commemorate a special event such as a wedding or engagement, is just the thing to prolong the memory.
Excellent Gifts or Giveaways
A Boca Terry monogrammed towel wrap also makes an excellent gift or giveaway. Our design experts are extremely adept at creating just the right look to emphasize the unique and luxurious styling that makes our wraps so special.
Snapping for Security
Another aspect of our design is the highly secure inclusion of snaps that allow each individual to adjust the wrap according to his or her preference and physical dimension. This ensures a comfortable and snug fit that accommodates any position, whether you are moving around, sitting, or laying down. Strategically placed elastic gives you double insurance that you are wearing a garment that provides confidence as well as a well-balanced silhouette.
Beautiful Fabric Choices
Our custom towel wraps come in various fabrics. Order a cotton blend comprised of 67% cotton and 13% poly waffle, or a delicious 100% poly microfiber with a sumptuous and super-absorbent French Terry lining.
Our Organic Line
We also carry a 100% combed organic cotton velour wrap that is made from carefully selected seeds that are completely natural. Without the use of bleaches, dyes, resins, pesticides, or any other toxic chemical, our Green line of towel wraps ensures an organic approach that so many of our clients are employing.
Fitting Into the Eco-Friendly Ethic
From hotels to spas, cruise lines, hospitals, and more, we are seeing the hospitality business turning towards more eco-friendly practices, and our monogrammed towel wraps are fitting into this ethic perfectly. Our retail clients are also asking for materials that are more sensitive to the skin, preventing the possibility of rashes and other reactions to chemicals used in conventional cotton growing practices.
Upgrading Our Merchandise, Satisfying Our Customers
Boca Terry is always looking for ways to upgrade our merchandise, as well as to satisfy our diverse customer base. With our own factories in China, Columbia, India, Pakistan, and Turkey, we are able to keep a strict eye on all facets of production, from the sourcing of materials to the weaving and looping of fibers, sewing of seams, embroidery, and all else.
A Guarantee of Quality and Attention to Detail
A Boca Terry product is a guarantee of high quality and attention to detail. Like all of our merchandise, our monogrammed towel wraps are made to endure the many launderings that they must encounter in the hospitality business. When you purchase any one of our lines, we can safely say that our materials will look as good through time as they did on the first day they arrived at your establishment.
Elegance and Service
Luxury is something all of your guests expect from the moment they walk through your doors. When you present them with a beautifully constructed towel wrap that features your embroidered label, you are immediately associating your brand with the kind of elegance and service that sets you above the competition.
Giving Yourself the Best
As a retail client, when you order from our online catalogue, you will receive a beautifully made product that will enhance your experience through its luxurious and comfortable feel. You should have the best, and a Boca Terry towel wrap is one of the simplest ways that you can give yourself something that is aesthetically pleasing, sensually appealing, and highly practical.
Looking Like a Million and Spending Less
When you purchase one of our items, you will look like a million, but will have spent very little considering the level of quality inherent in our goods. This is because we operate without a middleman, which allows us to keep our costs way down.
Contact Us
For more information on our monogrammed towel wraps and our other unique and luxurious products, contact us today. Simply call (877) 421-6001 or fill out our online form.
To shop retail, please visit shop.bocaterry.com.
Share this item with friends