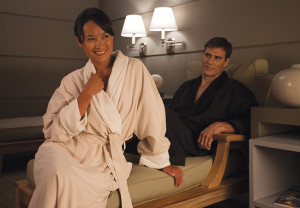 Monogrammed Towels for Your Resort
In a world filled with so many options, it can be hard to truly stand out from the crowd. You may find that even the smallest details can help you do this, though.
If you are a resort that's looking for ways to implement details that put you a cut above the rest, think small. How small are we talking? Even something as simple as creating and utilizing a new monogram design could have an affect on your business. Find out more now!
What is a Monogram?
A monogram is quite similar to a logo. It is a series of up to three letters (sort of like a person's initials) representing your brand or company. At Boca Terry, monograms are an embroidered detail applied to various customizable products, according to our customers' wishes.
How Does it Work?
You might be wondering whether or not you must already have to have a monogram designed when you decide to purchase monogrammed towels. The good news is that you don't have to! You can simply use our custom monogram builder to design the style you'd like.
And if you already have a monogram vector image that you'd like to use, just send it to Boca Terry! We can easily use this design to embroider your custom monogram to your towels.
Customizing with Boca Terry: The Process
You might be wondering what to expect when customizing orders with us. Well, here's the deal: you can expect detailed service, expert help from talented designers, and a high caliber of customer service.
If you have worked with us before, you know that we are committed to serving our customers to the best of our ability. That means that, regardless of how many examples you need to see, we are going to work with you to design the best monogram for your brand.
Those who have worked with us on customization and embroidery projects are familiar with the process. After you send us your design, we will come back to you with any revisions we deem might be helpful—whether related to font choice, color, or size. From there, once you finalize your design before we manufacture each item with care.
What Towel Collections can I Choose From?
As you can see on our website, Boca Terry offers two towel collections with over 10 items to pick from in total.
Sunny Lane Collection: The perfect representation of classic towels, this high quality version is a great option for monogramming and customizing.
Resort Collection: With a name representing your industry, the resort collection offers the pivotal sign of elegance, class, and high-end amenities.
Why Use Monograms?
Monograms offer the classy, elegant and beautiful touch that your resort is looking for. Most resorts strive to offer top quality accommodations, amenities, and services—and we are sure that your resort is no different. That is why now is a better time than ever to invest in monogrammed towels.
Best of all, monograms offer your visitors an element of brand recognition. If they see your letters, logo, or other details throughout the resort, they will become more and more familiar with the name.
Brand recognition is a very powerful marketing tool. Even if you do not want to use monogrammed or embroidered towels on your resort, consider using them as promotional items! Not sure whether promo products are right for you? Read more here.
Where Can I Use Monogrammed Towels?
Custom monogrammed towels can be used throughout your resort in any place you would traditionally place a towel. Poolside, at the spa, near the hot tub, in the rooms, and even in the gym, your towels are useful all over and will serve to elevate your resort's reputation.
You might be wondering where else you can use your newly minted, custom monogram—and of course, we are here to guide you through that answer.
Because a monogram is part of your resort's branding, it can become a recognizable symbol of your resort's identity. Once you choose and customize a monogram with us, you can use that same monogram on bathrobes, slippers, spa wraps, and anything else that is customizable through Boca Terry!
Boca Terry: Bringing Your Resort to the Next Level
If you are ready to invest in the best and become a cut above the rest, then you should consider ordering customized, monogrammed Boca Terry towels for your resort.
Even if you are not interested in our towel collections, Boca Terry has the ability to monogram and customize most items we offer, so review our product catalog to pick the items that suit your resort best! If you have any questions, or if you would like to place a wholesale order, contact us today!
Share this item with friends