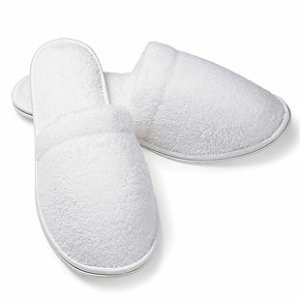 Slippers tend to pop up in pretty typical places during the winter, whether beside the fireplace, under the Christmas tree, near the front door, or in a posh hotel room.  However, slippers are an affordable, underutilized amenity than can help bring your winter (and your guests' winter) from cold to cozy!
Keep Out the Winter Chill
It's that time of year again: winter is here and, as usual, it has brought along its cold weather. If you own a spa, hotel, resort, an Airbnb, a cruise ship, or anything else related to hospitality and comfort, you will want to invest in slippers to keep your patrons warm all winter!
When considering purchasing slippers for your guests, keep in mind that they will not only offer warmth, but also ultimate comfort. Customers who have access to slippers are typically happier than guests who don't—and that offers a simple fix: simply offer guests a fresh pair of slippers during their visit, and you are likely to boost customer satisfaction and online ratings in return!
Easy Marketing
Help your visitors go from cold to bold with personalized slippers. If you decide to customize the slippers that you offer to guests, your patients will identify further with your establishment. Each time they see their new slippers, they will remember the outstanding customer service offered during their stay, along with how caring your staff was by offering such a gift.
The great news for you is that customization is easier than ever, and you will be sure that your product comes out exactly as you planned. We offer creative consulting services that influence the design and look of each customized robe. With custom prints, designs, and embroidery, you can ensure that your visitors always have a personalized experience.
Offer Reassurance
We know that you do everything in your power to ensure your hotel rooms and spa floors are clean—and we commend you for your hard work. However, that will not stop some of your clientele from feeling uncomfortable walking around in bare feet or socks. The truth is that some of your customers simply do not feel comfortable coming into close contact with your floors on any level—and that's okay.
That is why we suggest that you offer your visitors a fresh pair of never worn slippers. This will offer even the biggest "germaphobe" (one who fears germs and bacteria) the peace and reassurance that they will be okay walking around their room.
Our Slippers are High Quality
Now that you understand the importance of stocking up on slippers this season, you need to know the importance of choosing quality first! In your search for the best slippers, turn to Boca Terry. High caliber materials and long-lasting structure are never an issue when it comes to our products, because when we say we offer quality, we mean it.
All fabric used for Boca Terry items is woven at our factories, totally vertical from yarn purchase through weaving. Plus, our years of expertise in the manufacturing industry have allowed us to refine our manufacturing process down to a science. We do meticulous fabric research, unique design, sample making and systematic lab testing ensure our products are always top notch.
Increase Value
Let's be honest: your guests love knowing that they have gotten a good deal. Most travellers want to know that they have gotten value out of their stay while on a trip. Complimentary gifts, even as simple as slippers, can brighten your visitors' day and leave the happier! When deciding to purchase slippers for each guest, you will want to pay close attention to value, as well. You will want something that is affordable, yet high quality. The good news is that you already know where to look!
Our Slippers are Affordable
One of the biggest benefits to investing in Boca Terry is the affordability. Of course, slippers are not typically the most costly amenity for hospitality establishments to offer, but those manufactured by Boca Terry are especially a great value.
How are our products so valuable? Because we cut out the middleman, we have the ability to offer our luxury products at an affordable price, including our popular slippers!
Not to mention, our longstanding relationships with fabric suppliers enable Boca Terry to continue to acquire the best quality product and best-executed production in the world, at competitive pricing. This comes as a direct result of our company's relationships directly with the factories, something that many of our competitors don't have. At that rate, you should go ahead and stock up on slippers—and towels, and bathrobes, and spa wraps!
Boca Terry: Bettering Your Customers' Experience
Now that you know all of the reasons to consider Boca Terry, it is time to make your move! We are ready to help you better the customer experience, one slipper at a time. If you are interested in ordering Boca Terry, or if you have questions about wholesale pricing, contact us today!
Share this item with friends