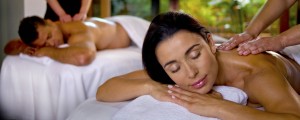 We know that many of you are holding back on some of the luxuries that you deserve. You work hard and you try to manage the stresses of everyday life as best you can, but sometimes it just isn't enough to take that one day off during the week to get the rest and relaxation you need. Sometimes taking a vacation doesn't require travel. It'
Creating a Luxurious 'Staycation' Right at Home
Though it might have been within your budget before to take a vacation, this year it may not work with the setbacks in our present economy. But don't despair! Boca Terry comes to the rescue with a recipe for how to create a luxurious staycation right within the very walls of your own home!
What Defines a Vacation?
When you think of a resort hotel or spa, what is the first thing that comes to mind? Perhaps it is the idea of relaxing poolside, Margarita in hand. Or maybe basking in a hammock by an aquamarine tinted sea. It could be a steam room followed by a long massage that smoothes away all the tensions lurking in your muscles and joints. And of course, it is sure to be resting in a pristine room with perfectly clean sheets and good room service, where all you have to do is turn over to assume you've done enough exercise for the day.
What's a Vacation Without a Robe?
Whichever of these fantasies fulfill your idea of the perfect vacation, none of them would mean anything without a luxury robe to drape around your body. Imagine a deep pile Boca Terry terrycloth hooded robe that wraps around you as you sip that drink. Picture a lightweight Microtec robe to place around your shoulders as the sun sets over your hammock. Feel the softness of a pure organic Kimono style robe holding in the moisture from your magnificent oil-rub down. Each one of these images forms a complete picture of what a good vacation means.
The Boca Terry Solution
So, here comes our special solution for enabling you to have almost all of the above, perhaps minus pool, ocean, and spa, but in a way that satisfies enough so that you feel like you are missing nothing.
How is this possible? With just a little imagination, a bit of preparation, and a few good tools, you can create an environment that is almost just as good as the real thing.
The Robe
First of all, the robe. Take a look at our online catalogue to select the one that is just right for you. Perhaps you will be taking your staycation with your partner. In this case, you can order two of the same robes or two different ones to fit your individual tastes. All of our luxury Boca Terry robes are made for both men and women, except for our Pink Satin robes, which are just the thing if you want to find the most feminine way to express yourself.
Our exceptionally crafted terrycloth robes are designed with a sense of comfort that is unparalleled. The satin strip model, with its elegant flair, is another great pick, as it creates the sensation of a getaway at a wonderful hotel with its unique and elegant styling.
Any of our kimono style robes are excellent options, especially if you want to create a Zen-like feeling for your at-home vacation. With their aesthetically honed silhouette, they will put you right in the mood for all the amenities you have supplied yourself with in order to feel like pampered royalty.
Planning Ahead
Planning your staycation means you need just a few more elements that won't cost you an arm and a leg, as opposed to actually going away. Some good body oil, soothing bath oil, an impeccably made bed with fresh, clean sheets, soft music, lots of candles of all sizes, and delicious foods that you prepare in advance should do just the trick.
Ready to Go
Once you've chosen the perfect weekend to enjoy your sumptuous haven at home, make sure you have all that you need in place. This means your Boca Terry robes await you, along with all the other materials listed above. Perhaps you've chosen to enjoy the weekend alone, or with your partner, or even with a friend or two. Make sure you have enough supplies to go around and you're ready to shut down the computer, turn off the cellphone and enjoy.
Candles, Bath Oil, Music, and More
With candles placed and lighted around your bathroom and bedroom, fill the tub with the oil or soap of your choice in water that steams enough to open your pores and soothe your bones. Put on your music and step into the bath, allowing yourself to feel no sense of time. Let the water do its magic as you revel in the sensuality of doing nothing but dreaming.
Emerging from the bath, dry off and apply the deep moisturizing oil to your body, or have your partner do it for you. Take your time and enjoy the feeling of each area receiving the attention it needs. Now, step into your exquisitely made Boca Terry robe and let it help your skin absorb every last drop of oil.
You've set out a tray of delectable foods by your bedside. Fluff up the pillows and get horizontal, nibbling on goodies when the spirit moves you. Enjoy the music and the candlelight as you feel your body melting and transforming itself back to a state of balance and calm.
Book a Massage Therapist
If the spirit moves you, have a massage therapist booked to come to your home to give your muscles some additional attention. If you're staycationing with your partner, ask for a full body massage and offer to return the favor. Have some good books ready to read, with the decision to do nothing else but read and sleep all weekend long, taking time to bathe and relax throughout.
Never Forget the Importance of Well-Being
When you put aside time for yourself where you can renew your spirit and feed your soul, you become much more productive in the long run. Nothing is more important than your well-being, which is something we often forget in our fast-paced culture that often makes us feel guilty if we are still. But stillness is your right, and at Boca Terry, we design our bathrobes with this in mind, which is why they define the essence of luxury.
Contact Us
For more information on ordering our exceptional robes for any occasion, please contact us by filling out our online form or calling (877) 421-6001.
Share this item with friends