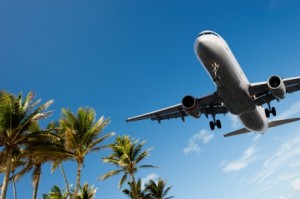 It's hard to believe that summer is just around the corner! With Memorial Day weekend only weeks away, we're here to remind you that it is time to start booking your summer vacation. After a volatile winter, most of us can agree that we need a summer vacation to make up for it.
This sentiment is reflected in the fact that 25% to 30% of airline tickets between Memorial Day and Labor Day are already sold. And where are most people off to this year? Hawaii and Europe! According to Airlines Reporting Corp., such demand is driving the prices of summer trips up, as U.S. to Europe bookings have increased 9% compared with this time last year. Furthermore, prices to Europe have increased 7%. Along with jet setting off to Europe, many people are dashing to Rio de Janeiro for the World Cup soccer tournament this summer, as Orbitz indicates that ticket sales for the summer season have spiked 454% as compared to last year, along with an increase in prices.
If this news is making you gasp, here are the top bargain destinations according to most recent research on summer bookings: Milan and Moscow. To exemplify the extent of these bargains, a flight from the U.S. to Milan has decreased 22% since last year where the average price for a ticket ranged from $1,500 to $1,924. Although most of us probably have no desire to fly to Moscow at this very moment, it's astonishing to know that airfares are so cheap that "you can buy a ticket from the U.S. to Moscow cheaper than to London or Paris – even when making a connection through London or Paris."
But if you're looking to stay "local" this summer season, you'd better hop on it as ticket sales for domestic flights have increased 5% and prices are up 4%. The most popular destinations for North American travel this year are, unsurprisingly, Hawaii and Cancun, Mexico; along with Fort Lauderdale, Tampa, and Orlando in Florida; Punta Cana, Dominican Republic; and Puerto Vallarta, Mexico.
Share this item with friends