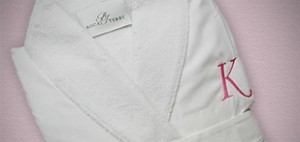 We know quality when we see it, which is one of the things that distinguish Boca Terry as a leading provider of luxury bathrobes in the hospitality industry. Our manufacturing process only allows for the most detailed craftsmanship.
We pride ourselves in being proclaimed perfectionists that never settle for mediocrity. Each piece that exits the doors of our factories is inspected before, to ascertain that each and every one of your guests is wrapped in the utmost comfort.
Unique Customization
By offering the option to customize our bathrobes, clients can feel the same way we do when we first spot a new fabric or style. This fabric is an emblem in itself portraying the comfort and glee one can get immersed in upon wearing a great robe.
Customization allows for enhancing brand identity, while exuding a luxe appeal. Guests will know that the garment they're wearing is indeed exceptional.  Clients can also place their personalized bathrobes in their hotel/spa boutique.
Guests can always feel comfortable in our products since Boca Terry is dedicated to providing the best bathrobes along with matching spa accessories and towels. We want to make sure that every guest will feel special when visiting our clients' hotels and/or spas.
To enjoy an extra comfortable fit, guests should have bathrobes that provide the proper fit. That's why most of Boca Terry's bathrobes come in one-size-fits-all designations, along with plus sizes.
No custom piece is complete without providing guests with the feeling that they're being pampered from head to toe. Boca Terry's reputation relies on flexibility and being able to meet our customer's needs. Having the necessary sizes available to make sure no one is left out from being enveloped in optimal comfort is one way we give flexibility priority.
Different Styles for Men and Women
Our variety of beautiful styles includes bathrobes that can be ordered in sizes that'll fit full size figures of both men and women. Our plus size styles are made to offer a high a level of coziness that matches the feeling of getting out of a soothing shower to the excitement of hopping in.
Whether your guests are heading to the pool or Jacuzzi, or just want to stay in their rooms and relax, a snug, plus size bathrobe will allow for getting the ultimate amount of relaxation. The models in which our plus size bathrobes are available in stay true to the fact that the aesthetics are equal to the coziness offered.
A Luxe Selection
Some of our bathrobes that are available in plus sizes include:
Basic Kimono– One of our most popular bathrobes, the Basic Kimono is available in 100% combed cotton terry or velour to synchronize with the meaning of true Zen. Multi-needle stitching embellishes the cuffs and front pockets. Deep pockets offer ample space to store personal belongings.
Classic Shawl Collar Bathrobe- Feast your eyes on a true classic. Boasting a stylish shawl collar, this timeless robe also comes in velour and terry variations, with larger sizes available in certain fabric weights.
Checkered Bathrobe- The Checkered Kimono and the Checkered Shawl Collar versions of this bathrobe flaunt no shortage in elegance. The shawl collar model comes with cozy roll-up sleeves, and you can choose between navy or white piping.
Kimono Waffle- Certain styles of this kimono come in larger sizes to enwrap your guests with the choice of a 100% cotton bathrobe or a cotton and polyester blend. A large diamond waffle pattern adorns this unique garment with various fabrics and weights available.
Knit Waffle- A cozy member of the waffle family, this robe is made of 45% feather-soft modal fibers melded with 45% cotton and 10% polyester. The rich nature of modal fibers adds to an exuberantly soft touch.
Velour Stripe Bathrobe- Combed cotton velour never looked so beautiful! A one-inch vertical stripe pattern of cotton velour gives this robe distinct flair available in Shawl Collar and Kimono Collar versions.
All of our bathrobes come with convenient double belt loops made to allow for adjusting the belt height.  Your guests can use the hanger loops to easily hang or store their luxe bathrobes.
Boca Terry's Wholesale Assortment
With so many different types of bathrobes around, it's easy to get stuck on choosing which one you should get for your hospitality establishment. Your goal is to give your guests the most comfortable experience possible, and one of those modes of comfort includes paying attention to the bathrobes you have on-hand.
While some guests will request a plus size bathrobe, others will expect one to be waiting for them. You can be one step ahead to assure that your guests always feel at ease when they visit. Contact Boca Terry today for more information on how to purchase our wholesale bathrobes in larger sizes.
Share this item with friends