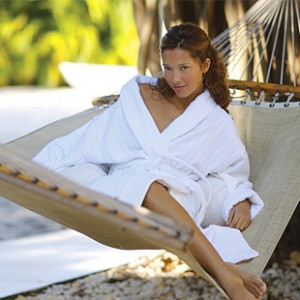 Lounging Is a Lost Art
Humans are interesting characters. They are always looking for ways to be more comfortable in their environments. From fashioning a bigger and better man cave to devising an ingenious plan to get both a manicure and a pedicure at the same time, they are never lacking in creativity and ingenuity. But the one thing that humankind does not to have to give much thought to is the primal need to lounge. In fact, lounging is a lost art. No matter how an individual chooses to lounge it becomes a very personal expression of comfort and leisure.
Let's face it, men lounge anywhere and everywhere they can. They lounge at the pool. They lounge at the beach. They lounge at home, in the bed, and in their hammocks.
Women on the other hand are more refined loungers. Women lounge at medi-spas, salons, and other places of pampering. It is because of this more refined sense of lounging that women should demand a high quality bathrobe.
It All Comes Down to Quality
A high quality bathrobe that is breathable and soft-to-the-touch, usually made from organic cotton, is the pinnacle of luxury when it comes to lounging. Robes of this quality are usually found in upscale salons, spas and hotels and even in the discerning ladies' home closet.
Terry cloth robes are robes that are made from an ultra-absorbent cotton and are perfect for lounging after a wonderfully invigorating swim or a luxurious Jacuzzi bubble bath.
What Kind of Experience is Your Company Creating for Its Guest?
If you are the purchasing manager of a luxury spa or hotel, ordering luxury terry cloth bathrobes is the best decision for your business. Women will appreciate the quality and attention to detail that an ultra-absorbent terry cloth robe will lend to their experience of the services offered at your facility.
It is only by providing luxurious touches like quality robes that you will cement your company's reputation as a leader in its respective line of business. By creating an ultra comfortable experience for your discerning guests, you are ensuring repeat business and positive word of mouth. Make sure that you are always well stocked with the touches that create a memorable guest experience, such as ultra-absorbent terry cloth bathrobes.
Because lounging is of the utmost importance to humankind and your business, it is important that you, as a purchasing manager at a luxury spa, hotel or salon make the right decision when it comes to obtaining the necessary flourishes needed to maintain your company's luxury status.
Be sure not to forget that when it comes to creating a cohesive experience for your guest at any luxury property, it is necessary to customize your robes. Colors, fabrics and monograms are some of the touches that make your robes unique and set them apart from others on the market. By buying them in bulk, you will save money and maintain a consistent image throughout the experience you offer your guests. Check out BocaTerry.com for information on ordering the right ultra absorbent terry cloth bathrobes for your business.
Share this item with friends