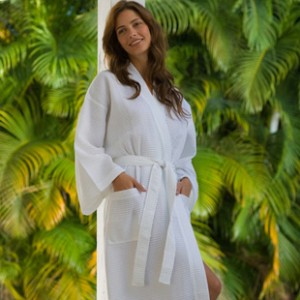 When giving a gift to a woman, people look for a few specific details. First, a gift has to be something that will benefit the recipient as well as suit their individual taste and style. It must also be modern and current; with the exception of a beautiful antique or heirloom. The gift must be of some use to her as well, whether for decorating purposes or for practical needs. There must be sentimental value, the suggestion that it shows appreciation for or demonstrates the value of the recipient, or even the deeper meaning of it functioning to serve both her and others.
An organic bathrobe easily meets all these requirements. Who doesn't enjoy the comfortable feeling of a soft bathrobe after a hot shower or the warmth of a bathrobe after a nice swim? It helps to dry, to warm, to provide comfort and it is also practical as a covering. The gift isn't too intimate, but proves you have a discerning eye in selecting a unique gift.
One might think that a bathrobe is not associated with taste or style. If you consider the work of Boca Terry, we're certain you'll rethink your outlook. There are a wide variety of styles of bathrobes. The kimono bathrobe will accent the lines of her body, as well as move with her to allow unparalleled comfort and flexibility. A classic shawl collar bathrobe has a simple design with a little spunk in its rolled up sleeves and collar. It also knows how to multitask, as pockets are built in and spacious so that lounging need not require the stress of carrying items that might get wet. There is also the lightweight waffle design, which adds some fashion with its square pattern and simple lines. This design is intended for relaxation and easy packing.
Of course, all the designs mentioned are modern and up-to-date. What makes them especially unique today is the organic factor. These bathrobes are well crafted and designed with options to complement the style of their recipient. They offer the benefit of being natural and giving back to the environment. Boca Terry goes so far as to have specific bathrobe designs certified as organic so that customers and bathrobe recipients are assured. The certification ensures that the cotton that the robes are made out of is chemical free by using cotton growers who don't utilize pesticides or fertilizers. This keeps the environment safe and clean, contributing to something that goes beyond a bathrobe. An organic bathrobe then offers its owner the comfort of incredibly soft and absorbent fabric without the damage to the environment in the production process.
What better gift is there? An organic bathrobe is more than just soft and stylish. It promotes healthy stewardship of the environment and demonstrates to her that she deserves only the best comfort there is. Shop Boca Terry to find the highest quality organic bathrobes for that special woman in your life and treat her to the best in comfort with attention paid to sustainability.
Please do not hesitate to contact us , if you have any questions or looking for further information.
Share this item with friends