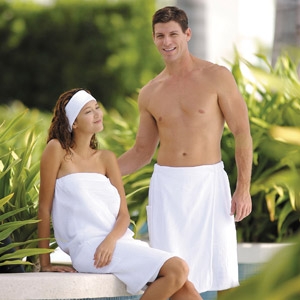 Going organic is becoming the wave of the future as we all become more aware of the toxicity and hazards of commercial pesticides and fertilizers. At Boca Terry, going Green reflects our attitude towards health and the support of a clean environment, and this is evident in our exceptional organic spa wraps, which are a perfect addition to your summer wardrobe.
Our Commitment to Bringing You the Best
With comfort and luxury always at the forefront of our brand, we don't believe you have to make any sacrifices when it comes to quality. Every single one of our organic products reflects our ethic and a serious commitment to bringing our customers the absolute best in terms of fabric selection and design.
Sensitive, Balanced, and Healthful Practices
We celebrate the fact that so many of our clients in the hospitality industry are getting greener. Looking for ways to become more sensitive to the environment, spas and hotels are finding viable alternatives for their interiors, such as using bamboo. An extremely fast growing grass, bamboo helps reduce deforestation and is extremely durable, as well as aesthetically pleasing. Non-toxic paint and carpeting that do not incorporate toxic chemicals, low-flow toilets, and natural fibers for sheets, towels, and robes are also fast becoming the new wave as many establishments become more sensitive to balanced and healthful practices.
Organic, Stylish, Chic, and Secure
Our summer organic cotton wraps are free of hazardous pesticides and fertilizers, making them perfect for anyone with allergies or skin sensitivity. Made of 100% organic cotton, they are made as one-size-fits-all, with a 24" length for men, going from waist to mid-calf and a 32" length for women, going from under the armpit to just above the knee. Designed to make every person feel stylish and chic, our wraps are easy to put on and take off with three snaps for an adjustable fit. With elastic to keep our wraps snug and secure, they are an excellent alternative to a towel, which can never provide the same sense of security and freedom of movement.
The Importance of Sourcing Organic Materials
Because conventional cotton growing practices use more pesticides than any other crop grown today, with the most toxic kinds of chemicals that keep increasing in strength, we are extremely aware of how important it is to source organic materials. Bad for cotton workers, as well as wildlife, water tables, and air quality, the cotton industry has added insult to injury by using genetically modified seeds used for cotton production to match the demand from an ever-growing population.
Facing a Dangerous Situation
The jury is not yet in on the results of all of this cotton abuse, but for sure with all of the formaldehyde resins, heavy metal dyes, chlorine bleach used on 75% of the cotton produced today, along with what goes in to creating GMOs, we are facing a dangerous situation, especially because the skin absorbs these chemicals.
Supporting Tried and True Practices
At Boca Terry, we support tried and true practices such as crop rotation and other biological cycles that have always been natural and healthy for the environment. We believe in balanced practices for growth and good soil conditions with less erosion. Our contribution to supporting the reduction of carbon emissions through energy-conscious production, manufacture, and design is our way of showing other companies like ours that it can be done while keeping up a luxury standard.
Organic Cotton as the Shining Star
Cotton makes guests feel pampered. There is nothing like the feel of organic cotton against the skin. Organic cotton never goes out of style. It is a star when it comes to absorbing moisture and holding in emollients. You can do so much with organic cotton; just take a look at our gorgeously styled spa wraps for an example of practical simplicity that enhances anyone's silhouette.
Durable and Cost Saving
With factories in China, Columbia, India, Pakistan, and Turkey, Boca Terry products are fully supervised, from the selection of seeds to the creation of the fabric and the final fabrication of our beautiful robes, wraps, slippers, towels, and other products. Additionally, every loop and stitch is made with loving care to ensure the utmost in durability and cost savings. Because we have no middleman, we are able to maintain our extremely high standards at very low prices, which has enabled so many establishments to take advantage of our extraordinarily well-made goods without going over budget.
A Great Addition to Other Boca Terry Products
Whether you represent a hotel, spa, cruise line, or other similar establishment, providing organic cotton spa wraps for your guests is the perfect way for them to feel comfortable without having to put on a robe. Ideal for jumping in and out of the Jacuzzi or steam room, for going from one spa treatment to another, or simply stepping out of the shower, our Boca Terry wraps make a great addition to your other Boca Terry products.
Placing Your Customized Logo
When ordering your spa wraps, there's one thing you shouldn't forget and that is your customized logo. There is no better way to keep your brand front and center than to have your design beautifully embroidered by our Boca Terry specialists to be placed on our wraps and other garments. If you have an online or in-store boutique, providing your guests with an item that sums up their relaxing experience at your establishment is how you can maintain a constant presence in their lives, as they use their wraps at home.
Ordering Through Our Online Store
Boca Terry makes it easy to order our summer spa wraps through our online store. Feel free to browse our merchandise and then to contact us with any questions, thoughts, or ideas you may have on how to thoroughly customize your choices.
Contact Us Today
Contact us today and order your cotton spa wraps for summer by calling (877) 421-6001 or using the contact form. Our experts are ready to consult with you on your customized logo and to help expedite your order.
Share this item with friends