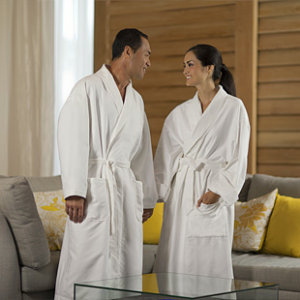 Fall is the perfect time to enjoy beautiful, colorful foliage, to participate in fun, frightful Halloween activities, and to fend off the frigid air in a warm robe! Feeling a bit chilly in the morning as your prepare for your day? Want to unwind with a warm robe after a long day of work? Are you already tired of being cold and looking to warm up this week? Take a few tips from the Boca Terry robe experts; the frigid fall air won't stand a chance:
Classic Shawl Collar
This classic, luxurious robe shows that the wearer is practical, yet fashionable. Available in traditional terry, or velvety velour, the classic shawl collar robe is a sign of class and comfort, while remaining a true cold air-killer! This 52-inch robe covers most of the wearer's legs, trapping in all the heat they need!
Not to mention, the cozy roll up collar and sleeves are comfortable, warm, and beautiful. Perfect for ending the evening after a stressful day. This robe is available in one-size-fits-all, as well as 2XL and 4XL; because everyone deserves comfort and warmth during the fall!
Hooded Bathrobe
Do not leave the house in the morning before using our hooded bathrobe! This robe is the ultimate choice for chilly weather. Everyone knows it's important to wear a hat when it's cold, as much of our body's heat escapes from our head. Solve this problem by investing in a robe that has a hood built in! That's not the only way the hood is highly beneficial in the fall.
Have you ever stepped outside during fall or winter with wet hair? Believe it or not, it is possible for wet hair to freeze! Don't be a victim of frozen hair syndrome—dry your hair with the hooded bathrobe, as you get ready for the day! The absorbent, extra large, terry hood draws the water from your hair as you begin to plan out the upcoming events. It's the best hands-free way to attain dry hair after showering!
Our hooded bathrobe is crafted from 100% combed cotton terry, is available in one-size-fits-all, and is also available in terry or velour!
Fleece Kimono Bathrobe
Everyone knows that fleece is the perfect fall time attire. Flannel shirts, jackets, and even shoes begin to hit stores around this time of year—all with the purpose of keeping wearers extra warm and extra happy! Now, imagine donning a robe made from the famed flannel; you bet it is an equally warming experience!
Made from 100% polyester, this fuzzy robe is available with or without a cozy roll up collar and sleeves! Wrap up in the fleece kimono bathrobe, and you will be far from cold this autumn!
Microfiber Bathrobe
This is definitely one of the favorites! A sign of dignified elegance and excellence, this well-crafted robe is available in 12 bold colors, such as grey, iceberg, and navy. Pick one to best suit your establishment's color scheme! Our Microfiber Bathrobe is lined with French terry knit for luxurious comfort, and features a cozy roll-up collar and cuffs.
Best of all, this robe is for everyone! Available in sizes small through 4XL, each guest has the opportunity to experience the warmth of this bathrobe.
Microfiber Bathrobe with Plush Lining
Very similar to the previously mentioned robe, this one is a great option to fend off cold fall air! This bathrobe features 100% polyester French terry knit lining, offering users a surprisingly softer experience. This plush robe is the perfect choice for staying warm this fall. Available in white and subtle ecru, this classy, dignified robe is a beautiful choice for sure. Stock up on sizes medium through 4XL; you are bound to find the best robe for your guests!
Boca Terry: Best Terry & Velour
Fall is one of the most highly acclaimed seasons. It brings vibrant colors, incomparable to any other season; it brings pumpkin patches, dried maize, and apple picking; and most importantly, it cools the air giving way from humidity and heat of the summer.
Fall is definitely a fan favorite, and fall is finally in full swing! Don't get left out in the cold this season! It is definitely time to invest in Boca Terry's beautiful robes. Want to ensure your guests, customers, and clients are warmer than ever before? Order some robes and more—there are slippers, towels, and even a waffle blanket to choose from! Please contact us with questions regarding wholesale pricing, or to place an order today! We look forward to hearing from you!
Share this item with friends