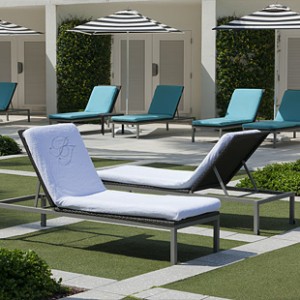 As one of the premiere providers of robes, towels, and other amenities, our credo at Boca Terry is that comfort should always be of primary concern. We are extremely aware of what it takes to uphold an indisputable reputation, and our products reflect this dedication to helping you maintain yours.
Quality and Craftsmanship
With every product we create, we make sure that the quality and craftsmanship is as impeccable as your guests deserve. When it comes to our outdoor lounge chair covers, we make no exception. We believe that every surface in your establishment should be presented with comfort in mind, where your guests can sit or lay in perfect bliss.
Aesthetically Pleasing and Perfectly Practical
Whether it is poolside, by the hot tub, or alongside your spa, our lounge covers will make your chairs feel like outdoor sofas. Aesthetically pleasing, they are made for the ultimate in practicality, keeping oils and creams off your furniture while also allowing them to perfectly penetrate the skin.
Overseeing All Aspects of Production
Our reputation for providing some of the most refined products in the hospitality industry is due to our extreme attention to quality control. All of our towels and robes are created at our own factories in China, Columbia, India, Pakistan, and Turkey. With full autonomy over our product line, we are able to oversee all aspects of production, from purchase of the yarn all the way through to the creation of the final product.
Attention to Detail
We have put forth a meticulous effort over the years to train our craftspeople to completely understand the importance of attention to detail, which is why we have earned the reputation we have for producing impeccable products. With our reputation and yours at stake, we take every loop and stitch very seriously.
Durability
Like so many other hospitality products, outdoor lounge chair covers must undergo countless launderings, as well as normal wear and tear. For this reason we pay special attention to creating an extremely durable product that retains its strength and beauty through time.
The Look of Expense
All of your amenities reflect the care you bestow upon your guests. When you order our lush outdoor lounge chair covers, you are telling your clientele that money is not an obstacle when it comes to their comfort. Though these products are exceptionally competitive in price, the look and feel always leaves guests believing that you have gone to any expense to provide the best.
Distinctive, Elegant, Luxurious
Our selection of the finest combed cotton, where short fibers are reduced to a minimum in order to create greater strength and absorption in the fabric, as well as the density of the loops we make, provides a cover of the finest quality in the market today. When you order your custom logo or design on your order so that your brand is always visible, you gain a product that is distinctive, elegant, and infinitely luxurious.
Contact Us
For more information on our outdoor lounge chair covers, as well as our other Boca Terry products, please contact us at using our online form  or by calling (877) 421-6001.
Share this item with friends