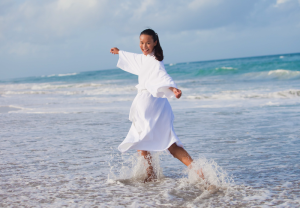 When it comes to packing, everyone has different practices. It might be hard to get everyone to agree on a single technique or a single "must have" item for each trip. After all, we all have different packing preferences we have learned over the years.
However, that doesn't mean that this fanciful, personal art can't be improved with a few tips from the hospitality and traveling experts at Boca Terry. Going on a vacation soon? Here are the essentials you'll need for your next trip—no matter where you are headed.
Cold Weather Clothing
We know what you're thinking: this is a summer vacation! Who needs long sleeves? But, even when you go vacationing on a beautiful, tropical island, you will still want to pack at least one warm outfit.
Here's why: when it comes to weather and the temperature, you never know what might happen! Whether it's inclement weather, a sudden illness, or even just the freezing interior of an airplane, you will regret not packing the warmer essentials—even in the warmest climates.
You should always be sure to bring a light jacket, a sweatshirt, or a cardigan. It doesn't hurt to bring both long and short pajamas, either—you never know what your room's temperature will be throughout the night.
Activity and Sport Gear
Depending on what type of vacation you are planning (and how you're planning to get there), you might want to pack your gear.
If you're driving to your destination, consider bringing along all of the equipment you will need for fishing, camping, scuba diving, snorkeling, snowboarding, skiing or golfing.
If you are taking a ride on a plane, however, it might be easier to just rent your equipment when you arrive, as your bulky equipment could result in excess baggage fees. Plus, that's the last luggage you'd want to get misplaced!
Extra Towels
No matter what season it is, you might want to bring towels and swimsuits. Whether you are headed to the beach, out to the pool, or to the Jacuzzi, packing a beach towel is never a bad idea.
You might want to bring a bath towel, as well—especially if you are heading out for a nontraditional adventure, such as an Airbnb stay! While most hosts will provide these items, you never know what could happen. You might just need an extra, and you don't want to bother your host for one at a late night or early morning hour.
Your Pillow
You might be surprised by how differently you sleep without your own pillow! Although the comfort of a bed is crucial to a good night's sleep, a pillow is a fundamental factor as well.
A bad pillow might be the element keeping you awake at night. Don't settle for anyone else's idea of a good pillow—just pack your own. It's great for road trips or on a plane, too! Just make sure you've got a window seat. You don't want to get too cozy, and neither does the stranger next to you!
A Cozy Blanket
Again, you don't want to have to bother a host for the essentials if you need an extra blanket. Sometimes, it's just too cold. Sometimes, people are allergic to the down feathers used in comforters. Avoid all of these issues by packing your own blanket with you!
We highly suggest the Waffle Blanket. It is very light, making it easy to pack. Plus, it's not to hot for the summer months.
A Soothing Bathrobe
Not all hotels, bed and breakfasts, and other establishments provide bathrobes for guests. However, most guests want them. A vacation is all about getting away, relaxing, and unwinding, away from work. A bathrobe is the perfect accessory to do this in.
Your Favorite Slippers
Slippers are an essential. Whether it means keeping your toes warm, unwinding, or just keeping your feet from someone else's floors, slippers are the perfect solution to your getaway needs.
Boca Terry: Bringing Your Next Vacation to Life
Whether you are in the hospitality business, or a regular consumer, Boca Terry has the right products to make your stay—or your guests' stay—amazing! If you have questions about wholesale pricing or to place an order in bulk, contact us today. Are you looking for our retail store? Find that here! Be sure to check out all of the products we have available!
Share this item with friends