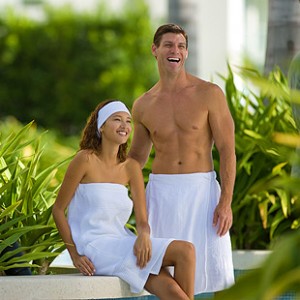 One of the best ways to make a special event even more special is to commemorate it with a personalized emblem. When guests receive something that represents a special day, it helps keep that moment in their memory for years to come.
What better way to help your guests celebrate a wedding party than to give them customized bath wraps that are uniquely created for a once in a lifetime event? By offering this one-of-a-kind gift, you separate your hotel from every other as you help cement a bond between friends through a keepsake that embodies the day.
At Boca Terry we understand the monumental importance of celebration, especially when it comes to sharing these moments with close friends. By ordering our personalized bath wraps, you are acknowledging what is important to them.
Because our mission is providing hotels and spas with luxurious robes made of high quality materials, double stitched for durability, we know that every style we offer is a work of art. By adding a customized embroidered logo, emblem, or design, these wraps become one-of-a- kind items that stand on their own as the unique, beautiful creations they are.
As one of the leading wholesale suppliers to luxury hotels and spas around the world, Boca Terry is known for attention to detail, innovation in style, and dedication to comfort and practicality. We carry a wide selection of styles to choose from, all of which can be customized according to the specifications required by your guests.
Whether a wedding party requires a specific color or a particular pattern, our expert designers are able to provide the exact requirement for helping a wedding party, or any other group celebrating an important event, stand out from the norm.
Our kimono style bathrobes are a perfect example of exquisite style that can be personalized for any occasion. With their simple lines, they are made of 100% cotton and feature double belt loops for waist height adjustment, as well as a loop at the back for easy hanging.
The hooded terry cloth robe we offer is also an excellent choice for a wedding party wrap with its oversize hood, ample pockets, and cozy length that invites loungers to linger and bask in its comforting appeal.
Ordering our plush bathrobes is already a plus, as they make a statement about your hotel or spa's dedication to helping guests feel at home and at ease. By going a step further in providing specialized merchandise that can be taken home after use, you create an opulent image that adds to your hotel or spa's appeal.
Because bath wraps represent the ultimate in intimate apparel, when you offer them to a wedding party, you are trusting the appeal of a luxury item. With sensitively done customization, the wraps become metaphors for celebration, union, and longevity.
For information on ordering our personalized bath wraps for wedding parties and more, please contact us at: http://50.97.39.122/~bocaterry/contact-us or 877.421.6001
Share this item with friends