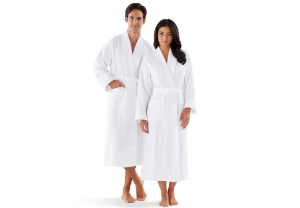 When it comes to sports teams, you want to have everything in tip top shape. From the equipment your team practices with to the state of the art gym and training facilities, the more you invest in your team, the better they are. When they aren't worried about whether or not the shower's going to work after practice or whether their jersey is going to keep ripping, they're able to keep their eye on the ball.
And, as the buyer for your sports team, ordering custom bathrobes for your players will say a lot to them about what you think of them.
These guys work hard for their team. They train constantly and play hard to bring home the championship trophy. Offering them the comfort of a soothing bathrobe, something they can be proud to wear, is yet another way to thank them for their time, effort, and dedication to success and greatness.
They've Earned the Best
Your players don't skimp on quality when it comes to their favorite sport, so why skimp on quality when it comes to their gear? That is why Boca Terry robes and accessories are the best choice for the athletes in your life. Treat your players with the pampering they deserve through Boca Terry.
So, get ready to cheer on your team from the stands or, if you're on the team, get ready to rock your next game with these fun bathrobe and accessory ideas from Boca Terry:
Set Your Team Apart from the Others
When your players wear a custom bathrobe with the team colors, logo, lettering, graphic, or even the player's name and number, will bring your team together and help them bond through this shared trait.
Customization
Boca Terry offers customization services for each product we sell. If you're ordering in bulk—for the players, staff, families, and fans—you might want to choose a unique pattern that screams the team's name.
Help your team stand out with a unique pattern or other customization.
Personalized Embroidery
When it comes to embroidery, we employ the best practices in the industry. Every stitch made is done with extraordinary care for artistry and longevity, meaning it's going to last as long as that durable bathrobe it's attached to. You'll see that our work is far ahead of the competition in its perfect depiction of the logos and designs that define each client.
Quality is a Priority
As the premier supplier of robes and towels worldwide, Boca Terry maintains a consistent reputation for our custom work and attention to detail with every single piece we distribute. We also pay special heed to durability, knowing that every robe and towel will be washed frequently. Our entire selection looks just as good after the thousandth wash as they did after the first.
Hardy and enduring, our robes hold up under pressure — just like your team.
Designing for the Stars
Having gained so many years of experience in the textile industry, we have had the opportunity to create custom bathrobes for hotels, resorts, spas, bed and breakfasts, and other establishments.
As our experience grew, we were asked to create custom lines for some of the most significant stars of the century — such as Snoop Dogg. You can read more about that here on our Case Studies page! If we can successfully design custom bathrobes for popular artist, Snoop Dogg, then we can do the same for you and your sport's team!
Don't Break the Bank
One of the best things about our products is that they are manufactured with you in mind. Our luxury amenities are very affordable—especially when ordered wholesale. Because our team is all-in during the manufacturing process, we don't have to deal with the middleman, and that mean's we can pass our savings along to you.
We do our part to keep costs low and you get to do your part in celebrating that big win with us! We pride ourselves in offering affordable, luxury quality items that meet all of your needs and expectations at a great price. That means that you can afford to offer robes to the whole team. (Yep, even the water boy.)
Classic Kimono
Extremely absorbent, and not overly hot, the Classic Kimono is a dream for many athletes.
Shawl Waffle
We know athletes are bogged down each day by the heat and strain of practice. Wrap up in something light and breathable after practice. This elegant bathrobe option is lightweight, yet luxurious — giving your players the comfort they deserve.
These are just two of our bathrobes that you can personalize. See the rest of our collection here!
Get Started
If you're ready to treat your team to personalized bathrobes, don't delay. Contact us today to place a wholesale order or to receive a quote!
Share this item with friends