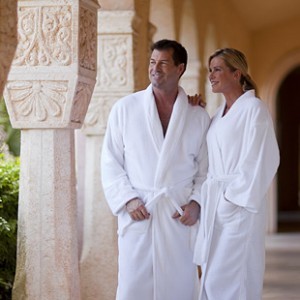 The perfect Las Vegas experience, of course, has to do with completely subjective point of reference. Amid the great hotels, the extravagant casinos, and the exciting floor shows, there are a bevy of other activities in which to participate, not the least of which is celebrating your wedding and all that surrounds it.
The Excitement of a Wedding in Vegas
What could be more exciting than to invite your family and friends to a glorious wedding in Vegas? At Boca Terry, we love the feeling of this city that so perfectly maintains itself like eternal champagne bubbles, leaving you feeling heady and excited no matter what the hour of day or night. Vegas is truly unique, whether you are staying on the Strip or somewhere else in town. And tying the knot where there is so much to enjoy is just another way to provide your guests with the time of their lives.
The Perfect Gift for Your Bridesmaids
One of the most generous and thoughtful aspects of bringing your best girlfriends and female family members together is to have them as your bridesmaids. And to thank them for their place in your life, what better gift to give them as they see you off to your next chapter than a Boca Terry Waffle Bathrobe?
Complete and Utter Comfort
Boca Terry Waffle robes are made with a lightweight weave that leaves you warm when there's a chill and cool when the weather heats up. In Vegas you can wear your Waffle robe indoors where the air-conditioning keeps things temperate, or outdoors in the heat as you bask in the sun. Wear it around the pool, the Jacuzzi, the hot tub, dining al fresco in your hotel room, at the gym, in between spa treatments, or anywhere else to feel the complete and utter comfort that defines a luxury robe.
Creating a Graceful Silhouette
Made of small panels that are designed to wick away moisture yet hold in emollients, our Waffle robes are made in a one-size-fits-all. You can also order them in plus sizes if you or your bridesmaids have a fuller figure. We pay special attention to the drape and flow or our robes, making sure they create a graceful silhouette no matter what your size or shape.
Made With Loving Care
Every one of our Boca Terry robes is made with loving care. This is shown by the profound attention we give to the production and manufacture of every item we have in our catalogue. We make sure that every one on our staff is trained to help create a product that stands up to the strictest of prerequisites, and the proof that it does is in each robe's durability, workmanship, and exceptional styling.
Something to Cherish Forever
When planning your wedding, don't leave out one of the most important elements, which is providing for those near and dear to you. By ordering a Boca Terry Waffle bathrobe, you will be giving your bridesmaids a gift that they will cherish forever.
Customized with a Special Design
Always keeping your wedding in mind is easy when you have your Waffle robes customized with a special design, logo, or emblem that best represents your special day. Place the initials of you and your husband-to-be on these robes, and you have something that is even more personalized. Our custom embroidery professionals are always ready to provide you with expert advice on how to create a memorable present that is functional, beautiful, and completely unique.
Here are some brief descriptions of the Waffle styles you will find in our online store:
The Kimono Waffle
For the ultimate in femininity, there is nothing like a kimono. Think about the Geishas in Japan and you will have the picture of extraordinarily graceful women wearing this eternal style. Our designers have taken the basic structure of the kimono and turned it into a robe that is as contemporary as it is classic, adding diamond or seashell shaped panels to better absorb moisture. Order it with the optional piping to match your wedding color scheme and you will be presenting your bridesmaids with a robe of extreme elegance. Order it in either 67% cotton and 33% polyester or in 100% cotton.
The Knit Waffle
Here you have a wonderfully cozy robe that creates a true movie star look. Made with 45% modal fibers, 45% cotton, and 10% polyester, you can have your choice between Kimono styling or a shawl collar with sumptuous roll up cuffs. Choose the beautifully sewn piping as an option, and of course, don't forget to order your customized embroidery design.
The Organic Lightweight Waffle
Many of our clients are selecting this exquisitely made organic lightweight bathrobe that is created with no GMO seeds and without any toxins. This 100% certified organic cotton robe is lightweight yet incredibly sumptuous, perfect for draping around the body as you sip champagne by the wet bar or pool. If you are concerned about any type of skin irritation, or if you or any of your bridesmaids are prone to allergies or asthma, this is the perfect choice.
Highlighting the Occasion
At Boca Terry, we are always excited to provide our gorgeous bathrobes when there is an important celebration involved. Ordering personalized bride and bridesmaids waffle robes is the ideal way to perfect your experience in Vegas, highlight the occasion, and watch the joy as your wedding party dons robes that are glamorous, sensual, and in such high demand.
Contact Us Today
To learn more about our design and embroidery options, contact us today. We'd love to help make your Vegas wedding even more unforgettable!
Share this item with friends