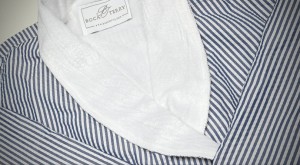 There are few things in life more comfortable than wrapping a luxury bathrobe around you. Whether you want to wrap yourself in a bathrobe right out of the shower or to lounge around your home, Boca Terry has a wide variety of styles to choose from. Boca Terry provides luxurious comfort in your own home without having to check into a fancy resort.
Personalized luxury bathrobes are the perfect way to treat yourself to comfort with the added detail of a beautifully embroidered monogram. You can have your initials or name embroidered on the front of your bathrobe, ensuring no one takes your bathrobe, or your luxury fantasy, away from you. It will tell everyone that you know how to treat yourself to the best life has to offer.
At Boca Terry, we use the highest quality fabrics to manufacture our luxury bathrobes that will ensure you feel nothing but softness against your skin.
It's important that you choose a robe that is comfortable. This includes taking into consideration how soft the material is and how absorbent it is. If you're putting on a robe right out of the shower, you want a robe that is absorbent; otherwise it's just going to be uncomfortable while you're trying to relax.
Men and women alike can enjoy a personalized luxury bathrobe. Whether you are looking for the special gift to buy a couple for their wedding, a coworker for their birthday or mom on Mother's Day, a personalized luxury bathrobe can be an incredible gift for any occasion. Personalization adds that special touch. The comfort of a robe wrapped around them day after day will bring them a touch of luxury long after they open their present.
There's no reason why you can't splurge on yourself too. Personalization of a robe shows that you have taken the time to make it your own. In addition, you will know that you have something comfortable to slip on every time you step out of a relaxing shower. You may enjoy the robe so much that you'll wear it around your home, dreading the moment you have to leave the cozy embrace of your robe.
Buying a personalized luxury bathrobe is something that shouldn't be taken lightly. You want to explore your options for materials and colors. Once you choose the one that is right for you, personalization is the easiest step in the process. Let Boca Terry provide you with a robe that is as unique and inviting as you are.
Share this item with friends