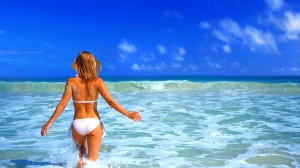 There is a large and growing trend within the hospitality industry to support Green initiatives. From using more sustainable building materials to creating better recycling practices, companies around the world are embracing a more organic approach.
Investing Energy in Conscious Protocols
This is also matched by demand. Today, more and more of the population is interested in booking their vacations at beach clubs, hotels, spas, and cruise lines that invest their energy in conscious protocols. At Boca Terry, we are doing our part to contribute to this trend, with our exemplary line of organic towels and robes.
Providing Organic Products
Some of our most sought after items are our personalized organic line of towels, which are extremely popular with beach clubs throughout the United States. First let us talk about what it means to us to provide organic products:
The Potential Hazards of Pesticides, Fertilizers, and GMOs
At Boca Terry, we are very aware of the potential hazards of pesticides and fertilizers. The conventional cotton growing industry uses more of these than any other crop in America, with negative consequences apparent in toxicity in water tables and air quality, as well as for flora, fauna, and the cotton workers themselves. Add to this the use of genetically modified seeds used to increase production, and we have a potential formula for something that may eventually become way beyond our measure to halt.
A Positive Effect for Those With Skin Sensitivity and Allergies
Our commitment to using 100% certified organic cotton in our line of Green products is the Boca Terry way to avoid formaldehyde, resins, heavy metal dyes, and chlorine bleach that present a danger to the human body. Because the skin absorbs everything, we realize that creating organic towels and robes for our clients will create an especially positive effect for those who have skin sensitivities and allergies.
Created to Last
Our beach towels are made with exceptional attention to craftsmanship. With every loop created to absorb the maximum of moisture, our processes ensure that you are getting the finest quality product. Created to last, every towel we make will endure the countless launderings required without losing their luxurious quality.
Impeccable Quality Control and Competitive Prices
With our own factories in China, Columbia, India, Pakistan, and Turkey, we supervise every aspect of manufacture and production. Our reputation for impeccable quality control is one of the factors that have brought us the high level clients we are so proud to work with. And because we have no middleman, we are able to keep our prices extremely competitive.
Made with Loving Care
Our clients know that every Boca Terry product is made with loving care and an eye to perfection. Every towel made is evidence of how we see our brand, and in turn an example of how you see yours. As a beach club competing with many, it is imperative that your brand exemplifies the best in quality in order to provide your guests with the excellent products they deserve.
Customizing to Advertise Your Brand
Now let's talk about personalization. Our design experts are here to customize your organic towels, using your logo to help you advertise your brand. With your emblem on every piece, there is no greater publicity. Imagine your personalized Boca Terry beach towels lined up on the shore, with each one functioning as a billboard broadcasting your beach club.
Everything is in the Details
Combining the comfort, durability, and aesthetic value of our organic towels with your unique logo is the perfect way to emphasize the amount of attention you pay to every detail. And in our business, everything is in the details. When you provide guests with towels that are toxin-free, that are soft and absorbent, and that are luscious examples of the kind of services your provide, you are working your way towards top ratings that will help your brand become a byword in your industry.
Finding the Optimum Design
Boca Terry specializes in helping you find the best design that represents your company and meets the needs of your clients and the atmosphere in which they'll be used. With various towel styles, you can select what is best for you and then consult with our designers on the custom embroidered emblem that you would like to see on every one.
Personalized Organic Towels to Take Home
If you have an on-site boutique or an online shop, there is no better way to satisfy your guests than by offering them one of your personalized organic towels to take home. This is another way to advertise, as well as to make your brand indelible in the mind of your guests and their friends and family members who will see and use your towels.
An Intelligent Giveaway
A great towel also makes an intelligent giveaway. If you are doing any kind of promotional event for your beach club, placing one of Boca Terry's organic towels in a giveaway bag is one of the best ways to impress potential clients.
Commemorating Special Events
You can also personalize your towels in other ways, such as commemorating a special event at your club, or offering special logos and designs for guests who are celebrating a particular event, such as a wedding. Adding a business logo or a guest's initials to your own company design is a wonderful way of making a group or individual feel like they are a special part of your club.
Contact Us Today
There's no denying the benefits of going green. Boca Terry is here to help you extend that credo to the linens you provide for your guests at your beach house.
To learn more about our organic towels or processes and how to personalize them with your logo, contact us today! We can be reached through the online form on our contact us page or by phone at (877) 421-6001. Wholesale pricing is available, so get in touch with one of our representatives today!
Share this item with friends