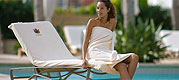 When we think of a luxury hotel we think of refined elegance, subtle and highly schooled service, and an understated sense of regality that permeates the atmosphere. A luxury hotel doesn't need to advertise itself. It exists, like old money, to serve those who come to be quietly pampered, without shouting its name or proclaiming its highlights.
A luxury hotel brings its clients up to its standard. Even as it pampers, it does not swoon or fawn. Celebrities come and go. Rich bankers, multimillionaire landowners, and splurging honeymooners rest their heads on opulently threaded pillows, mostly yearning for anonymity as they go about the business of relaxation.
At Boca Terry, we understand the meaning of this kind of luxury, and our aim is to serve it with luxury standards of our own. Our craftspeople take the utmost care to deliver quality robes, as if each one was made as a one-of-a-kind. The attention to detail is what has made us a cut above the rest, as we continually strive for new levels of perfection.
As one of the leaders in custom robes, towels, and accessories, we are fast becoming the company known for making exquisitely personalized robes in bulk for luxury hotels. Often the word "bulk" implies a cookie cutter attitude towards merchandise, but with us, every robe is inspected before it is sent out, guaranteeing only the finest in quality.
Personalizing robes can mean defining a print, executing a new design, or accenting the product with specialized embroidery. Whether it is your logo, emblem, or monogram, we will take your robes to new heights as we model them to your specifications.
At Boca Terry you will always get a uniquely styled robe in both standard and plus sizes as needed. Beautifully designed for men and women, your clients will revel how our robes feel on their bodies as they emerge from the shower, pool, or hot tub and wrap themselves in their delicious warmth.
From the basic kimono to the hooded robe, every one of our thoughtfully designed creations can be personalized to make a unique statement about your hotel. Imagine our soft and deeply comforting fleece kimono bathrobe with your embroidered logo, or the micro chamois bathrobe sporting your emblem. Personalizing a robe implies individuality. It means that your hotel values every element within its walls enough to stake a claim by adding a custom touch.
The subtle hint behind personalizing a robe is that each one was individually hand picked in just the way that a luxury hotel represents itself. A guest wraps him or herself in a robe that belongs to this same exclusivity, adding to the mystique of being separate from the herd.
A personalized robe is like being part of a club. It is tangible proof that the guest could enjoy your hotel's amenities. It is a brand that sets them apart.
For more information on personalizing your robes, please contact us via http://50.97.39.122/~bocaterry/contact-us or by calling 877.421.6001.
Share this item with friends