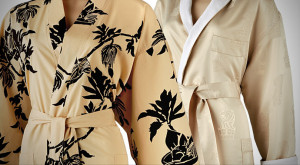 Summer is the wedding industry's busiest season. If you are planning a wedding, it can be tough to decide on the perfect gift for the bridal party. However, anyone that follows the trends in the wedding industry knows how much brides and bridesmaids love getting ready for the big day in matching robes!
Why You Need a Robe
Why sit around and watch everyone else have all the fun (and cute photographs)? Matching, cozy robes will enhance your wedding day on so many levels, as they aren't just for good looking photos! After a long morning of getting hair and makeup done, brides need an easy way out of their clothing that will not interfere with their perfect wedding day look! Robes make this easy and practical. Brides can simply unwrap, and slip on their ideal white dress.
A Perfect Morning
Brides, imagine your ideal wedding day. After a fully rested, peaceful night, you wake up, calm and refreshed. Immediately after waking, you write a sweet letter to your parents and to the groom's parents, thanking them for the support along the way. Next, you step into your bathroom and draw a hot bath. After some time passes, you step out of the tub into a soft, soothing, absorbent bathrobe. This peaceful morning does not have to end here. You can stay in your warm, comfortable robe all morning. Get ready to be pampered to perfection until it is finally time to don your beautiful, delicate, elegant wedding gown.
Don't Leave Out Your Ladies
However, there is one problem with this scenario: A bride doesn't want to be the only one pampered on her big day; she wants to treat her best friends, bridesmaids, helpful mother, grandmother, sisters and mother-in-law to a morning of bliss and excitement.
A Gift from the Heart
As a genuine "thank you" for helping her through the stressful wedding planning process, brides want to treat all of her closest ladies to a beautiful, high quality, durable and practice robe. The perfect way to ensure everyone gets fully pampered and treated like royalty is to gift them with a beautiful, luxurious bathrobe and to make sure they wear it!
Make a Lasting Impression
Commemorate your nuptials with a bathrobe. Each time your bridesmaids wear it, they will recall the amazing time they had with you and will remember how meaningful it was to be part of your day (and every step along the way). Sip some champagne, mix a mimosa and blend a bloody Mary for the Bride. The ultimate pre-wedding relaxation preparation has begun.
Why Robes?
Bridesmaids have had enough of the flashy, matching bracelets (that don't even suit their style), impersonal gift cards and improperly sized rings. Present your bridesmaids with a practical, yet feminine robe. You might even be the first one to give them such a useful bridal party gift. Let's check out some of the most popular styles your bridesmaids already have their eye on.
Pink Kimono Satin Robe
This feminine, pink robe is exactly what your ladies are looking for. Silky, soft and beautiful, your bridesmaids will absolutely love preparing for your wedding in one of these. 36 inches in length, it is not too long or too short for creating the perfect silhouette.
Kimono Waffles Bathrobe
You can't go wrong with a lightweight bathrobe. You get to pick the waffle design that best suits your girls—seashell, diamond, or the classic, basic waffle. Having a beach wedding? Opt for the seashell pattern as a cute detail. Brides might also choose the diamond pattern to signify their lovely wedding ring! No matter which style you choose, this light, absorbent bathrobe will be used by your bridesmaids for years to come.
Customize Your Girls
If you really want your ladies to love their gift, then customize your robes. A little floral print never hurt anyone! Match the robe to your wedding theme and the photos will turn out better than you've ever imagined. Better yet, make your girls feel special by embroidering their name across the front of the robe.
Don't Forget the Guys
A crucial component to completing a wedding party is groomsmen: the guys that have stuck by your man's side. It took a while to get here—the guys deserve some wedding day pampering, too! Why do the girls get all the fun? If you are an unconventional couple, then we have the perfect groomsmen gift for you! Check out our favorite groomsmen robes for the big morning!
Shawl Waffles Bathrobe
This robe is light, comfortable and masculine. The optional colored piping will help your men stand out in photos, and be sure to match the colored piping to your wedding colors! They won't get too hot during the warm summer months in these robes. Just the right length, and available up to XXL, this robe is a great choice for your guys! Strong and durable, this robe will last for years to come.
Microfiber
This classy robe comes in your choice of several colors. Grab your groom and his men the black ones to match their tuxedos. Or, opt for mismatched robes, letting each groomsman's personality shine! Keep your groom comfortable, calm and collected in this robe. Because this robe will keep him just the right temperature, you won't have to worry about him getting cold feet.
Brides, Boca Terry Knows Your Needs
Planning a wedding can be a stressful period on one's life. Let Boca Terry help you relax before you make your move toward the aisle. If you have questions regarding wholesale pricing, or to place an order, contact us now!
Share this item with friends