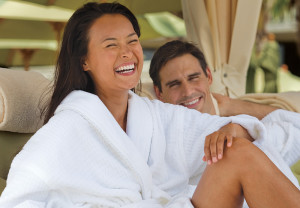 A lot goes into choosing the right gift for a loved one, especially when the holiday season begins. You have to consider what type of gift would best fit your recipient's personality, and what would be the most practical option this time around.
Well, when it comes to pragmatism, bathrobes have that written all over them. Boca Terry's wide selection, in particular, will ensure that your loved ones' eyes will light up as they open their cozy present. With a large array to choose from, not finding what you're looking for is virtually impossible.
Although Boca Terry's collection can suit nearly every personality type, you can use the following divisions to help you make your choice depending on specific preferences:
Boca Terry's Microfiber bathrobe with Plush Lining offers the tranquil-at-heart or momentary couch potato the comfort that can be approached all year long. Whether they're spending their lounging days indoors or outdoors, the Microfiber bathrobe provides warmth and coziness.
A snug roll-up collar and cuffs accent this luxurious bathrobe's 100% polyester microterry lining.  If you've picked out a spa package as a gift, this bathrobe can make for the ultimate accessory to be used in and outside a spa's premises, too. You can even match it with Boca Terry's slippers.
For the camper that doesn't miss a season to set up their tent in the wilderness, give them a gift they never saw coming. Boca Terry's Hooded Bathrobe is a camping wardrobe essential that packs more than one feature making it indispensible.
To begin with, this bathrobe is easy to fold and store, and it can allow for extra room to store other belongings. Whether your loved one is camping out during the cold winter season or in those warmer summer nights, a hooded bathrobe will come in handy each time they want to unwind.
They can roast some marshmallows by the fire and store their phone in the robe's generous pockets, and they can make their late-night restroom runs without having to worry about changing. Available in terry and velour, this 100% combed cotton bathrobe's hood just adds to the comfort for those times they'd like to lie down and watch the stars.
Does your gift recipient always seem to be on the go—in the sky? Regardless of whether they're going on vacation or on a business trip, Boca Terry's Classic Shawl Collar Bathrobe can be the answer to every traveler's wish.
As a comfy companion, your loved one can wake up and get immersed in the robe's ultra soft velour or terry embrace. They can take it along with them and enjoy their hotel stay. The bathrobe can even be worn when preparing for a business meeting or while feasting in the hotel room. The Classic Shawl Collar bathrobe offers an easy day-to-night use.
Stir away from the mainstream electronic house accessories set out for newly married couples and give them a gift they'll always remember you with. No honeymoon or house warming is complete without having the right garment(s) to ease off the stress compiled over planning the big day.
Boca Terry's Satin Stripe Bathrobe makes for an excellent his and her present. Combing a luxurious tone with a 100% polyester exterior, this lightweight bathrobe is available in Kimono and Shawl Collar variations. A French terry knit lining accentuates the luxe factor.
The newlyweds can wear their bathrobes during and after their honeymoon. They can take advantage of relaxing spa treatments and the breathtaking view from their hotel suite's balcony, while on their exotic getaway. Complete the gift by finalizing the package with Boca Terry's assortment of Closed-Toe Slippers and spa accessories.
Who's the jolly good fellow? At any given birthday party, there's no telling what's inside a gift bag or wrapped box and whether your gift-choosing thinking process matched that of another guest. The Micro Chamois Bathrobe from Boca Terry will surely stand out among the rest of the gifts.
Packing both lightweight and soft qualities, chamois robes are known for being as warm and gentle as flannel. The highly durable nature of this particular product adds to the practicality of this unique gift. Other gift givers will think why they hadn't come up with the same distinctive choice.
You're probably thinking that you've already given your significant other every possible gift idea under the sun, and are totally stomped on what to get them on your anniversary. Change things up with Boca Terry's Microtec bathrobe as a gift they'll always remember.
It's available in several variations:
Mini Check Kimono
Pineapple Kimono
Mini Check Shawl Collar
Pineapple Shawl Collar
Make your anniversary extra special this year with a versatile bathrobe that can be worn on just about any other occasion.
The Gift that Keeps on Giving
When you turn to Boca Terry for your gift shopping, both you and your gift recipients will be delighted with the present. Our large range of bathrobes along with towels and spa accessories are of high quality and can attend to pretty much anyone's preferences—even the pickiest loved one.
For an extra special gift, you can customize the bathrobe of your choice and get creative by choosing the shades and designs that you think your gift recipient would like. For more information on our bathrobes, contact Boca Terry today and we'll be happy to help you choose the right gift for your loved ones.
Share this item with friends