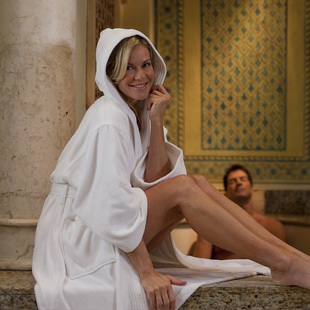 More and more hotels are getting on the bandwagon when it comes to selling merchandise online. When so many guests ask, "where can I get that bathrobe," it's time to provide them with an easy means to purchase it through a boutique where they can select the style that made them feel so good.
Paving the Way
The original idea for selling hotel amenities was born more than a decade ago at the Westin Hotel. Their Heavenly Bed gave their guests such pleasure that they had a hard time fielding all the phone calls requesting information on how fans could get one of their own.
Watching Sales Increase
Many major hotels throughout the country and now the world, have begun to create unique boutique settings both on site and online. Discovering what a powerful way this is to market their brand, they're watching sales increase as consumers find products they like, either from direct experience, word of mouth, or great advertising.
Constant Reorders on Luxury Bathrobes
At Boca Terry, our sales are going up as we continually take reorders on our luxury bathrobes that are so popular with guests staying at the hotels, resorts, spas, and bed and breakfasts we sell to. When your clientele is satisfied, it wants more, and if someone can't afford another vacation at your location right away, the next best thing is to buy an emblem representing their experience, which most of the time, is a robe.
The Plaza Hotel Gets Involved
When Central Park's famed iconic Plaza Hotel added their line of linens and bathrobes to their in-house boutique and website, it made history. When a hotel giant such as this one gets on the bandwagon, it means that anyone else not following suit is way behind the eight ball.
The Potency of E-Commerce
E-commerce has become one of the most potent protocols for opening up new and exciting avenues for businesses across the board. When you offer your services online as B2C, you instantly grab the attention of a public that exponentially extends itself as the word spreads.
Providing the Best in Customer Satisfaction
E-commerce is another way to provide the best in customer satisfaction by making available those products that made your guests fall in love with their experience in your hotel. Additionally, it is one of the best ways to keep your brand front and center as guests and fans wear and use what you offer, usually reordering and definitely passing on the information to their friends.
Getting What They Want When They Want It
With the ability to shop online 24 hours a day, seven days a week using a credit or debit card, former guests and future fans are able to get what they want the moment they have the desire. Because you are available to anyone, anywhere in the world, you can increase your visibility by global proportions by offering a well constructed online boutique.
Using Social Media, Blogs, and Other Advertising Modalities
There is a tremendous potency to marketing your best products through all the available media at hand. Savvy hotels are using social media and blogs, as well as other forms of contemporary advertising modalities to keep the public abreast of their brand.
Increased Revenue Through Online Campaigns
Our clients are definitely responding to the allure of increased revenue and brand building as they see the results from their own online campaigns. Following in the footsteps of the Plaza Hotel, they are hopping aboard the new marketing train and making tracks towards this thoroughly contemporary attitude towards marketing.
Furthering the Cause
We are extremely proud to be a part of the new energy that is being generated by innovative industry teams bent on creating new types of campaigns for their hotel, resort, and spa brands. Recognizing that advertising our Boca Terry robes helps them enhance their already first rate reputations, we are excited to provide these clients with customized robes that assist in furthering the cause.
An Ample Selection of Customized Robes

Because our inventory is so extensive, with room for customization with our handcrafted and embroidered logos and emblems, our clients are able to provide their guests with an ample selection of bathrobes to choose from. Some examples are:
•    Our hooded or shawl collar terrycloth robes
•    Our fleece kimono
•    Our Waffles line
•    Our Microfiber line
•    Our Microtec line
•    Our Satin line
•    Our Velour line
•    Our Organic line
Choosing Several Bathrobe Styles
Any one of these styles can be altered according to your specifications. By working in coordination with our Boca Terry design specialists, we can help you decide on several bathrobe styles that display your brand while working well for seasonal use, lounging, after bathing, or other situations unique to you.
Lounging Luxuriously and in Style
Equally appropriate for men and women, our exquisitely crafted bathrobes are made to sensually drape over the body, providing the wearer with unmatched comfort. We make all of our models in plus sizes as well, making sure that everyone is able to enjoy the sensation of lounging luxuriously and in style.
Enhancing Your Brand With Just a Few Clicks
Like the Plaza Hotel and so many others, creating a boutique around your best products will satisfy your guests and fans, expose your brand to the max, and extend your customer service. With Boca Terry bathrobes, towels, and accessories, your reputation for providing the ultimate in luxury items with just a few clicks onsite will help catapult you into the new wave of capturing and captivating clients.
Contact Us
For more information on our beautiful Boca Terry robes and how to order from our impeccably designed inventory, please contact us by filling out our online form or by calling 877.421.6001.
Share this item with friends