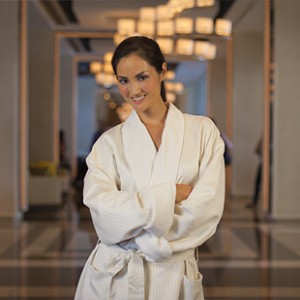 With years of experience in supplying luxury robes, towels, and other items to top hotels and spas throughout the United States and Europe, Boca Terry prides itself on exceptional quality and styling. We understand the value of comfort and practicality when it comes to making sure your guests feel as pampered as they should, and we create all of our merchandise with this essential element in mind.
When a guest enters a hotel room, one of the first places he or she goes is to the bathroom to see what kind of amenities await them. Specially selected soaps and hair products are the first key to the level of care that they will find at your establishment, but it is usually the robe that tells all.
Finding a plush robe in a luxury hotel room is the perfect way to let your guests know that every detail surrounding their stay is important. Coming out of a shower, emerging from a hot tub, lounging in a spa area or by the pool and being able to wrap something soft, cozy, and enveloping around the body is the perfect way to say that your hotel will bring them all the relaxation they hope for.
Most people stay in luxury hotels to get away from the stress of life. It is a time when all the cares of the world melt away as you are pampered and cared for in an environment dedicated to placing the everyday world at at least arm's length. Plush robes add to the ambiance, and our exceptional models are what numerous high-end hotels around the globe are ordering to add even more prestige to their exceptional service.
At Boca Terry, you can choose from a number of styles, all of which are made for both men and women. Our hooded bathrobe is the ultimate in warmth with its extra large hood, deep pockets, ample length, double belt loops for adjustable weight height, and hanger loop for easy hanging. Made of 100% combed cotton terry or velour, the multi needle stitching around the front, cuffs and pockets keeps this luscious robe in perfect condition no matter how many washings it undergoes.
Our Fleece Kimono bathrobe is a study in deliciousness. Made of 100% polyester, it has all the attributes of the hooded robe, but in Asian style. Add to this, or any other robe, the advantage of personalized embroidery and you have a robe that is beyond the call of just wicking away moisture.
When your guests wear a robe that has an exceptional feel and a customized look featuring your logo or emblem, it's one more way to remind them that they are staying in a hotel that is more than a cut above the rest. Our plush robes are designed for a sensual way of life that only the best hotels and spas can give.
For more information on our plush robes and other items, please contact us via our online form, which can be found at http://50.97.39.122/~bocaterry/contact-us, or by calling toll-free at 877.421.6001.
Share this item with friends