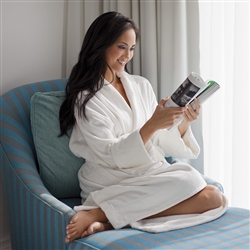 There are bathrobes and then there are Bathrobes. At Boca Terry, we put the Capital B in the word while adding a little "P" for Plush.
The Definition of Plush
According to the dictionary, the definition of the noun "plush" is a "rich fabric with a long, soft nap." The definition for the adjective is " richly luxurious and expensive." Our robes are certainly the apotheosis of these descriptions, but we would like to add just one word to the end of those found under adjective, and that is "looking."
Luxurious and Expensive…. Looking
Boca Terry plush terry cloth bathrobes are richly luxurious and expensive… looking, which means that though they would seem to cost a fortune, this is only because they look so darn good. We believe that looking great comes with fine fabrics and classic styling, but it doesn't have to mean it costs an arm and a leg.
Showing Off Like You Serve the Rich and Famous
This is the difference between our company and the competition. We make our products to suit royalty, but affordable enough for anyone to own. Our sensitivity to budget, especially in this day and age where every penny needs accounting for, means that you get to show off like you only serve the rich and famous, but with affordable plush terry robes that have never looked better.
Matching Your Sense of Style
We know how dedicated you are to providing your guests with the very best. We also know how much you love to hear that there are products out there that match your sense of style and your desire to make everyone feel like they are on top of the world.
Giving Your Clients What They Deserve
At Boca Terry we know that your brand is competing against many others as the number one choice with vacationers, business travelers, and anyone else who is lucky enough to step through your doors. Whether you are a five star hotel, a charming bed & breakfast, a sumptuous spa, a well-heeled casino, or a forward thinking hospital, you want to give your clients what they deserve, which is a right to feel like a million.
Getting in the Game
There are many, many bathrobe materials and styles out there to choose from, as our online catalogue will prove. But there is no better classic or basic bathrobe to select than a gorgeous terry cloth robe. We're not saying don't look at our Satin Stripe or our Microtec line. Not at all. We're just saying that if you don't have a string of terry cloth robes to offer your guests, you're just not in the game.
The Basics
So, let's start off with the basics, which are any one of our terry robe styles. Shawl collar with roll up sleeves, hooded terry with that all-enveloping feeling, or Kimono style that brings out the sleek ninja or geisha in every one of your guests. Each one is a beauty, providing the perfect testimonial to your sense of style and your dedication to customer satisfaction.
Great Styling
Our shawl collar and hooded terry cloth robes come with deep, lush pockets for holding keys, a cellphone, or other sundries that can otherwise get lost on your way to the pool or wet bar. And though all of our robes come as a one-size-fits-all, they have an adjustable belt height to accommodate your guests' varying waists. Additionally, they have a convenient loop on the inside of the back collar for easy hanging so your towels aren't left strewn on your carpets.
Understanding Luxury
Having a Boca Terry terry cloth robe in your repertoire of robes is a sign that you understand luxury. Offer your guests the Satin Kimono, a Waffle Weave, or a lightweight cotton towel wrap, but never forget that a terry cloth bathrobe is King and must serve over the kingdom of leisure no matter what else you have on hand.
Getting Away From the Ordinary World
Your clients come to you to get away from the ordinary world, to feel at ease, and to bask in the pleasures of getting away from it all. The world you offer without a terry cloth robe is like a world bereft of a basic comfort.
Hospital Suppliers, Listen Up!
If you are a hospital supplier, providing patients with a bathrobe is the perfect way to help them relax and feel good. Think of those old horrible hospital wraps and then take a look at our plush terry cloth robes and you will instantly empathize with anyone who must undergo a hospital stay. And if that doesn't light a fire under you to order up a serious batch of our terry cloth robes, we don't know what will.
Spas! Hear Us Now!
If you are a spa then we know you already have placed your orders with us, or are gearing up to do so now. What spa in its right mind would or could do without a Boca Terry terry? We would write about the definition of "crime" here, but we would prefer to give you the benefit of the doubt, knowing that you are about to click on our website just as soon as you finish reading our very last word.
Casinos Awaken!
When your clients can lounge about your establishment in a classic terry cloth robe, you are putting new meaning to the idea of the world as someone's oyster. When you make your customers feel like a million, it brings them closer to winning a million, and that's the name of the game, right?
Having the Right Amenities
Cozy bed & breakfasts know the true meaning of comfort. We have looked to them for many years when it comes to understanding what simple luxury can be. A select boutique inn always has just the right amenities, and we'd be hard pressed to imagine any one of them without a terry cloth bathrobe from our custom designers.
Adding Your Brand Logo
Add your brand logo and your terry cloth robe order will look even better than you imagined when you first saw the photos in our catalogue. There is no better way to advertise yourself than with a custom embroidered emblem of your establishment on every item.
Contact Us Today
For more information on our plush terrycloth bathrobes and more, please contact us today!
Share this item with friends