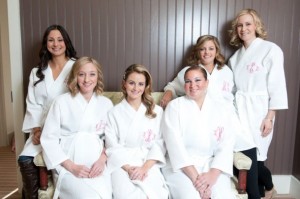 If you are in the promotional business, the marketing industry, or you are part of a company that is looking for unique promotional ideas, it's important to be aware that robes and  accessories could have an influential impact on the effectiveness of your efforts. Want to know how? Find out more now:
 Branding 101: Why Promotional Products?
As you are looking for ways to improve your brand's reputation or popularity, you might be wondering why others use promotional products during these efforts. After all, what are  they good for? What do they do for a business?
Those are great questions! Promotional products serve the purpose of helping your brand garner attention, while also emphasizing your customer service. In fact, promo products are  a great way to show you care about your potential customers. By providing amenities or prizes to current and potential customers at no cost to them, they are going to gain and  maintain a positive image about your brand.
Promo products are also an easy way to reach out to your target audience without demanding anything from them in return. This means that you can communicate with your target audience without demanding anything from them, whether time or money. The good news is that your target audience most likely loves getting free items every now and then—especially items of value, such as items with a practical use.
Why is it so important to reach out to your prospective customers? Well, they can't buy your product or book your services if they aren't aware you exist! Even whens a promotional product does not relate directly to your products or services (i.e. free ice cream outside of a car wash), it still offers a feasible way to garner attention while only dishing out a small investment.
Your promo product offers a way to open the lines of communication—think of it as an icebreaker.
Brand Exposure Through Nonconventional Methods
With so many advertisements and commercials in every direction consumers turn, your target audience is likely suffering from information overload—and that means that are probably becoming less interested in these forms of advertisement.
Unless you have a truly great marketing tactic, your commercials might not be worth the investment, especially when it comes to television publicity. A recent study revealed that approximately 75% of television watchers ignore commercials, which means that there is less brand exposure despite the relentless repetition that a company pays for.
So, you want your brand to get noticed. What are you to do? Promotional products are the first step along the way.
Promotional Products are Long-Lasting
Especially when made from durable materials, physical promo products stay around for a while—and that means that your brand or logo will repeatedly play in your target customers' minds! This leads to elevated brand recognition, which is always a good thing. Customers like what is familiar.
Here's how it works: That means that if you have a beautiful resort in the Caribbean, and a customer has been wearing a cozy bathrobe with your logo on it for the past 6 months, they might think of you before even researching other resorts in the Caribbean! They already know you have excellent customer service, that you care about them as a customer, and that you don't skimp on amenities—what more can your target audience ask for, in this case?
Affordable and Effective
When it comes to effective marketing, a promotional bathrobe is one of the best ways to get your brand across to many people without spending a fortune. We have found that this is an important point to emphasize when you are calculating your promotional budget, especially with Boca Terry's competitive prices and high end quality.
A Great Return on Investment (ROI)
Our clients have shared that the return on their investment is what keeps them coming back to us for more of our premier robes. Our bathrobes are made with excellent quality, and they are quickly becoming some of the hottest giveaways in the business.
Not sold? Even the New York Times notes the Surprising Power of Promotional Products.
How to Customize
Now that you know why you should invest in great quality, practical promo products, it's important for you to learn how to customize those items.
Boca Terry products are ideal for customization. We offer both customized and embroidered products, to fit your company's personality and to help your brand shine! Whether you are hoping for bathrobes with your motto over a cute pattern or bathrobes with your logo, ordering promo products is easier than ever before.
Don't be shy! If you need some help choosing your promotional product or design, contact us—our design team is ready to walk you through designing a product that stands out, making your brand the center of attention.
Get more promotional product ideas here!
Boca Terry: Bettering Brand After Brand with Promotional Products
Ready to get your brand the well-deserved attention it needs? Consider using Boca Terry products in your promotional strategy. For wholesale pricing or to place an order, contact us today!
Share this item with friends