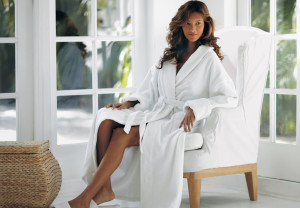 Have you enhanced any of your hotel's pampering amenities lately? Regardless of your hotel's size and location, you should have the right features available in all of your guests' rooms to assure that they'll be paying you another visit again soon.
Bathrobes are one of the most coveted elements every guest loves to be welcomed by upon entering the room they'll be calling home for a night or more. Of course, it's not just any bathrobe a guest looks forward to getting embraced by—it's the one that oozes snugness and lavishness.
Elements that Make the Case for Luxury
Whether you're adorning your hotel rooms or spa with bathrobes, the sense of opulence lies within the composition of a bathrobe. You want your guests to be hugged by a robe that not only features a luxe look, but one that's also made of the highest quality materials.
When choosing luxury bathrobes for your hotel, consider the following factors:
Look for a manufacturer that can provide you with a wide selection to choose from. At Boca Terry, you'll find everything from cotton terry or velour to satin, microfiber, and micro chamois bathrobes in different designs and patterns.
By being able to choose from a large variety of robes, you can easily match your order to the theme of your hotel rooms—and the climate conditions, that can also determine the weight of the fabric you choose to go with. Here are some of the styles you can choose from at Boca Terry:
Basic Kimono
Checkered bathrobe
Hooded bathrobe
Microfiber bathrobe with plush lining
Microterry bathrobe
Mini Stripe bathrobe
Pink Kimono Satin robe
Satin Stripe bathrobe
A kimono style robe generally correlates to a more modern interior design, while a more classic styled robe can match a more traditionally designed establishment. Since Boca Terry's varied bathrobes each flaunt a subtle blend of a modern and classic façade, they can each match the preferences of numerous hotel owners and guests.
In the hotel industry, the last thing you want is to get a complaint from a guest about any of your facilities or services. Your visitors are always expecting to get an exquisite experience and with bathrobes, this is highly reflective of the composition of what they'll be wearing.
You need durable bathrobes that are manufactured in a way that can withstand several washes. This will help them maintain their composition without having to be replenished after just a few wears—guests will be able to feel a soft hug even after the robes undergo the necessary amount of launderings.
In addition to being able to withstand getting cleaned frequently, bathrobes should feature compartments that will make them practical to both wear and store. For instance, the bathrobes at Boca Terry feature large pockets for guests to store their personal items in, as well as a hanger loop so as to easily hang a robe before or after it's been worn.
To make sure that you satisfy the needs of all your guests, it's most practical to make a one-size-fits-all order and when available, even order some plus size bathrobes. Boca Terry's bathrobes also come with double belt loops for guests to be able to adjust the belt height of their robes to properly fit their silhouettes.
To get the most bang for your buck, make sure to look for a wholesaler that manufactures the bathrobes at their own factory/factories. This will allow you to buy your bathrobes at a better price since there is no need for any middlemen.
At Boca Terry, we not only manufacture all of our bathrobes and spa products in our own overseas factories, we have also developed long-term relationships with some of the industry's best fabric suppliers. This has guaranteed that we get an upper hand in executing top-notch bathrobes and selling them at affordable prices.
If you're getting quality bathrobes at affordable prices, that shouldn't compromise getting them when you need them. Perhaps you're opening a new hotel and have a strict deadline as to when you'd like to have the right number of bathrobes delivered to your establishment.
Make sure to discuss these details with the vendor to get an approximation of your order's shipping time. Be sure to count the exact number of bathrobes you'll need, taking into account ordering an additional amount in case the need for extras unexpectedly arises. 
You want to take every opportunity you can to enhance your brand loyalty and what better way to do it than with customized bathrobes? No luxury product at a hotel is complete without having the right details on point. When your guests throw on a unique bathrobe made especially for your hotel, they'll never forget it.
At Boca Terry, we can design and personalize your bathrobes and spa accessories. Whether you choose to flaunt a custom monogram, logo, emblem or any other special design, we can add an original edge to your order. You can even sell your very own customized bathrobes in your hotel boutique if you have one, or hand them out as gifts.
Quality is the most important thing when it comes to hotel robes wholesale. The better the quality, the happier you will be with your purchase. Whether it's our basic kimono, checkered options, classic shawl collar, fleece kimono, hooded options, jersey, waffle options, microfiber, knit diamond, satin or any other options we offer, the one thing you can count on with each item is that it is made at the highest level of quality possible. We combine over a half century of design and manufacturing experience and bring you the very best bathrobes, towels and spa accessories. These items are used all over the country, either offered for sale or as gifts to valued customers.
From a business's standpoint, consider the time and money you have put into your brand. You've built a website, marketed it, hired and trained a staff, selected a property based on location and look, selected the finest services and amenities to present to your customers to ensure that they are completely satisfied and will not only return to you but also refer you to their family and friends. Your reputation will do more for you than even the best marketing campaign and that's why everything you provide your customers' needs to be of the highest quality.
Boca Terry offers the best deals on hotel robes wholesale as well as other accessories that you can buy online. Take some time to browse our website, seeing the different options of bathrobes, towels, spa accessories and other items we have available. You can also checkout our blog where you will find updates on our products, fun facts about the industry and more. If you need to reach us for anything, we invite you to give us a call or chat with us live via our website. We are here to help you get the information you need and simplify your shopping experience.
Everlasting Comfort
Boca Terry has been working in the manufacturing industry for years. Our experience has grown our knowledge in determining the best bathrobe fabrics necessary to meet the high standards of the hospitality industry. With our luxe bathrobes and spa products, your guests will never feel in shortage of comfort.
We distribute our bathrobes to among the world's most renowned heavyweights in the hospitality industry. Along with choosing from our various bathrobe designs, you can also choose from our different towel collections and spa products.
If you're interested in getting started on your luxury wholesale bathrobe order, contact us today for more information. We'll be more than happy to assist you!
Share this item with friends