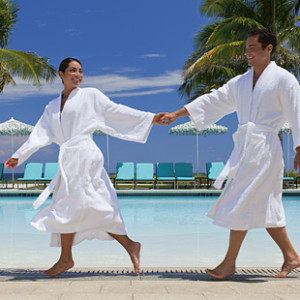 As a business owner or manager, it is so important to save money wherever possible. This allows for the greatest profit margin, which is crucial to the success of a business. However, too many establishments get stuck in the habit of ordering cheaper priced (and cheaper quality) items for the sake of profit. Remember, investing in your amenities means that you are investing in your customer and their experience.
It is important for businesses to remember that cheaply made items are not valuable. If you want to know more about finding the best quality, affordable bathrobes and towels, then you are at the right place. Follow Boca Terry's tips to finding superior bathrobes and towels:
Why Quality Matters
A quick search online will show you how much towel and robe quality matters to your customers. Simply enter "hotel with bad towels" into the search bar to see what guests have to say; you will immediately see the awful reviews from various hotel guests who felt underwhelmed by hospitality offerings at a number of establishments. Time and time again, guests have proven that it is crucial to offer quality amenities with their hospitality horror stories and low ratings.
Not only does the quality of products come into play, but also towel size. Various establishments may overlook this factor, but that is not a good idea. No guests want to step out of the pool, reaching for a tiny towel that is nearly unraveling before his or her eyes.
Quality Through Absorbency
Absorbency is another important factor when considering towels and bathrobes for your brand. Make sure that your towels are made from natural cotton. Synthetic materials do not absorb moisture; therefore they do not dry guests well.
What Quality Looks Like
As you can see, quality is crucial to the value of a product. Boca Terry ensures that each product matches our standards. For example, we source material from all over the world to ensure that we acquire the best materials at the best price.
Not only that, but our fabrics are woven at our facilities, specifically for each of our products. That kind of quality is never questionable—this practice ensures that each product meets our standards and yours, as our customer. Better yet, when you offer your customers our brand, you will not have to fear the embarrassing reviews that other establishments in the industry have fallen victim to.
Affordability is Key
We pride ourselves in offering top of the line towels and bathrobes at an affordable price. How do we do it? As we stated, we take full ownership of the design and manufacturing process. This enables us to cut out the middleman—and, therefore, also the costs associated with the middleman! We hire teams internally to cover everything that we need done during the manufacturing process, and this means two things: we save, and we are able to ensure that each and every product meets our brand's quality standards. This allows us to stand behind each item we offer, and enables us to know our brand even better than the back of our hand.
Our Popular Top Picks
We like to think we have a few tricks up our sleeve—in the form of outstanding quality, affordable products. Want to know our top picks for your brand? Here are some of our favorites:
Towels:
Sunny Lane Collection: Top quality, classic towels in multiple sizes, including beach towel sizes. Customize for extra excitement!
Resort Collection: Gorgeous towels to represent your establishment at its best.
Bathrobes:
Microfiber with Plush Lining: A pivotal sign of class and elegance, this robe identifies the absolute quality and care associated with Boca Terry items. Choose your favorite colors and sizes for your guests to enjoy.
Microtec: This robe is a Boca Terry original. Cozy, plush, soft, and lightweight, this is the perfect item to show off your obsession with well-crafted items.
Organic Lightweight: Bringing your amenities to the next level, this robe is an excellent way to impress guests. Let them wrap up in this perfectly made bathrobe to relax the body and unwind the mind. Get started impressing your guests by raising the bar—you won't regret it.
Boca Terry: Best Towels, Robes, and More
Perhaps it's time to consider stocking up on bathrobes and towels for your establishment. Or, maybe are simply considering a change in your provider. Whatever the case may be, it is time to order Boca Terry for your establishment. We offer top of the line, high quality robes, towels, and spa accessories that your guests will love.
There is a reason that many of the top names in hospitality offer our brand in their rooms; there is a reason our name is so highly sought after in the hospitality industry—and beyond! Do your visitors the favor of providing them with the best robes and towels in town. For questions about wholesale pricing, or to place an order, contact us today!
Share this item with friends