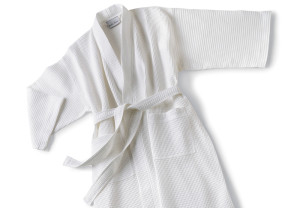 When choosing the best fabric to wear, there are numerous qualities you'll want to look for to make sure you get the best experience. With bathrobes, choosing the best fabric is directly correlated to selecting the one that can offer you the optimal comfort. Cotton is among the most widely used natural fibers around the world, and with all of the benefits it offers, it's easy to see why it's commonly used in the manufacturing of bathrobes.
Durability
Strength takes the center stage of cotton's lasting nature.  A cotton garment can withstand several washings in hot water without ripping or tearing—it's actually much more potent when wet. It's easier to wash and can handle getting dirty.
This is especially useful for the hospitality industry since bathrobes must be washed regularly. Since cotton is durable, you can get more wear out of cotton items than those made of other fabrics.
Cotton can be maintained without having to wash them as much as other materials. Its fibers actually shed odorous residue much more than other materials—namely, synthetics. After being washed, cotton can also be effortlessly be air-dried or placed in the dryer.
Form-Fitting Build
Cotton holds the ability to be worn in various types of environments and flatter several silhouettes. Regardless of which occasion it's being worn for, cotton can be worn everywhere from a hotel room to the beach.
Cotton bathrobes, particularly, allow for a comfortable and flexible fit that's also highly breathable. Wearers can easily maneuver around, while still not having to worry about overstretching the fabric.
Snugness at Its Best
Smooth to the touch and feel, the soft nature of cotton contributes to its snug makeup. Not only can you use cotton bathrobes in all sorts of environments, but they can also be used to stay warm or cool whether you're indoors or outdoors.
Since cotton is a breathable fabric, it can protect against heat during warmer days and areas, while still protecting the wearer against colder weather. Since cotton's fibers trap air between them, they offer a great amount of insulation.
Seeing as how cotton offers enough space between the fabric and skin, more air can be allowed into the space, which ultimately allows for the insulation and coziness. This versatility accounts for the reason why many cotton bathrobes are produced in a weather-resistant manner that's both impenetrable, yet air-circulating enough.
Hypoallergenic Disposition
Cotton bathrobes can suit practically anyone's preferences since they barely ever cause any allergies, especially if they're organic cotton. Since cotton doesn't cause any skin problems or irritation, it makes it an excellent choice for use in lounging garments like bathrobes.
Additionally, cotton controls moisture by diffusing it away from the body.  It also absorbs enough fluids to keep the skin dry, which is especially useful for bathrobes used after a bath or swim. Moreover, cotton bathrobes are especially popular in spas as they absorb oils and lotions while keeping moisture out.
By removing moisture and keeping the body dry, cotton bathrobes minimize the chances for fungal growth. This helps to relieve skin issues, which is why cotton is highly recommended for people with sensitive skin.
Eco-Friendly Arrangement
Cotton is one of the most environmentally sound fabrics around. It's both biodegradable and can be manufactured without the use of pesticides.  Since cotton is a renewable resource, it helps motivate a green environment when it's of an organic composition.
Since organic cotton bathrobes are made without the use of pesticides, it means fewer chemicals are released into the environment. Farmers, manufacturers, and wearers alike are less exposed to the negative effects of chemical use.
Affordability
The long-lasting composition of cotton is one of the reasons why it is a more affordable option. Even though some types of cotton are more expensive alternatives than others, for the most part, cotton is a cost-effective choice.
Manufacturers have easy access to cotton, which means the cost remains reasonably low, too. Cotton bathrobes generally have a pretty consistent pattern, even though they vary in terms of thickness and how tightly stitched the fibers are. The thicker the fabric is, the more expensive it is, but even so, it's still an economical selection.
Versatile Form
Cotton can take on several forms. Whether you decide to opt for a cotton terry or velour bathrobe, you can still keep the same qualities mentioned above. Cotton is relatively easy to customize.
It can be colored and woven in different ways. When it comes to customizing bathrobes with unique prints, designs, or stitched embroidery, cotton is among the easiest fabrics to do so on.
It can be matched with several other types of materials, as well. That's why it's easy to find cotton-polyester blends for many bathrobe models. These types of compositions can be readily folded without wrinkling as much. Ironing cotton garments is also a lot simpler than pressing other fabrics.
Cotton Bathrobes Rule the Hospitality Industry
As the demands of customers increase by the day, especially with technology's influence, the hospitality industry is always transforming itself to meet such growing demands. Staying on budget while offering top-notch quality is key, which is why many businesses and individuals choose to go with a fabric like cotton.
With so many advantages that can be enjoyed with the use of cotton, it's hard not to choose it as a preferred fabric for bathrobes. At Boca Terry, a large range of our varied bathrobe assortment comes in different cotton versions.
From shawl collar to hooded models, as well as checkered and striped patterns, we carry different fabric weights, too, to accommodate the different needs of our customers. Whether you're a hotel or spa owner, or run a prominent cruise line, having comfortable cotton bathrobes readily available for your guests will help you stand out among the competition.
Contact Boca Terry Today
At Boca Terry, we also carry several organic cotton bathrobe styles and feature numerous customization options for you to choose from. If you're interested in learning more about our cotton bathrobe assortment, call us today. We'll be more than happy to provide you with more details about our luxury bathrobes, towels and spa accessories.
Share this item with friends