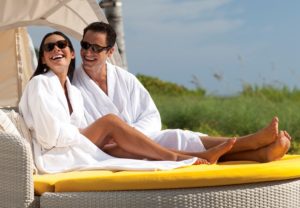 Because bathrobes are the epitome of the pampered life
Maybe you're heading out on vacation in the next few months, or maybe you run a luxury hotel. Either way, there are a few things you'll need to keep in mind about planning a great trip or hosting guests to the best of your ability. Most importantly, you'll need to get in touch with which amenities and accessories will make a stay stand out.
From summer fun to fall festivities, we've got the lowdown on all the best bathrobes required for luxurious living. Here are some of our favorites:
1. Bathrobes are the perfect poolside accessory
The best vacation dress code? A bathrobe, pure and simple. Why pack a whole bunch of items for the pool or beach when one garment can do it all? It's a cover up, a towel, and a cozy lounging piece all in one: the right bathrobe is the perfect addition to your waterside day.
The Microtec Bathrobe is one of our favorites for summer. The Pineapple Check has a raised finished in the Kimono and Shawl style with piping. The Mini Check has a flat finish with a very defined pattern. And since it's made from 85% polyester and 15% nylon, it'll wick moisture away from the skin, making you clean and dry in no time.
2. They make great fireside companions, too.
It's finally that time of year when the weather starts changing – and we're super excited about it. Once the coolness starts to creep in, a soft and fluffy bathrobe is the perfect garment to keep you warm and cozy all season long.
One of our favorite fall bathrobes is the Velour Stripe Bathrobe. Made from 100% combed cotton velour with a beautiful vertical stripe pattern, this robe is big, plush, and beautiful, making it everything you'd want in a cooler weather cover up. It's a great selection for guests on cruise ships to enjoy during a windy fall day, or for those times when they want to head over to the gas-powered fire pit near their room without having to change. Plus, the shawl collar is 52" in length, featuring cozy roll-up collar and cuffs — so it's bound to keep the cold air out.
No matter where you are, a bathrobe will bring your experience up a notch
A bathrobe sings class, comfort, and relaxation. And that's why you want to make sure you have enough of them to go around for all your guests. Ready to stock up? Contact us today for wholesale pricing or if you have any questions. We'd love to hear from you soon!
Share this item with friends