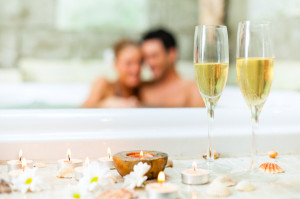 With Valentine's Day just around the corner, our monthly Robe Report wouldn't be complete without some tips for romantic spa treatments.
It's no surprise that spas cater to couples during this time of the year, so whether you're looking to have a spa day with your significant other, or want to try out some treatments during your evening at home together, there are a few great ways to get close on this occasion!
Couples Massage
Perfecting for relaxing and connecting with your lover, couples massage packages are usually incorporated into a package that features a variety of add-ons meant to enhance the experience. If your busy schedule won't allow it, bring the massage experience home by using his or her favorite plush robes, towels, candles, and scented oils.
Foot Massage
Although couples massages might include a foot massage, most people yearn for undivided attention to their feet. Since we overlook this part of our body the most, your significant other will certainly appreciate the attention.
Masks and Scrubs
To enhance the closeness shared on Valentine's Day, spas offer a variety of aroma-therapeutic masks and scrubs that can be added onto a spa package or taken home to revitalize your skin and your love.
Outdoor Baths
Offered in warm and cold climates, outdoor baths are a perfect way to relax, lift your spirits and enjoy the surrounding elements with your lover. This is a must if you're going on vacation for Valentine's Day.
Share this item with friends