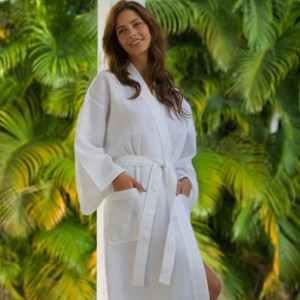 It's Summer and time to take a fresh look at your inventory to see what you need to perk up your brand for the new season. With just a few pieces, you can create a new feeling for your return guests, as well as those who will enjoy your hotel for the first time.
Sensational Satin
Boca Terry's sensational satin bathrobes are just right for lightening things up after a long winter. Spring is where the glamor is, and in our robes you find the right balance between beauty and function.
Feeling LuxuriousEveryone wants to look as good as they can, especially when on vacation as they work on their tans and enjoy all the outdoor or indoor activities that they would otherwise not have at home. Your hotel's spa will always be a big attraction, as guests unwind with treatments like massage, saunas, and other protocols that enhance body and spirit. It is essential that you provide your clients with exquisitely crafted robes, cover-ups, towels, and other amenities so that they can feel as luxurious as they deserve to be.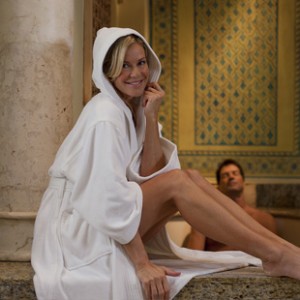 Offering the Best in Quality Our products are created for a relaxing ambiance that offers the best in quality. At Boca Terry, we understand what it means to work hard during the year and then to take that getaway so dearly needed. We know that it is at this moment guests want to be treated like royalty, and it is the degree to which they feel this that determines their experience at your establishment.
Robes Just Right for the Occasion
Providing your guests with the best is your way of defining your brand. Choosing robes that are just right for the occasion shows your sensitivity and care. With our beautifully designed products we can help you revitalize your inventory with the following two satin-styled selections: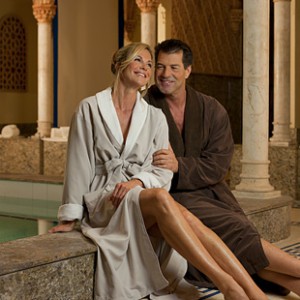 The Pink Kimono
For your female guests, there is nothing more alluring than our one-size-fits-all 100% polyester kimono in the palest pink. The kimono remains the perfect emblem of finesse, which is why it is such an important garment in Chinese and Japanese cultures. Emanating grace with every move, it also offers delicious comfort with its lovely T-shaped line and soft draping fabric.

The Satin Stripe
Designed for both men and women, this Boca Terry classic comes in Kimono style or with a roll-up shawl collar and cuffs. Made with top-of-the-line French terry knit lining, the outer shell is composed of 80% cotton and 20% polyester. With double belt loops for perfect waist adjustment and a hanger loop on the inside of the collar for hanging when damp, the Satin Stripe is a perfect spa robe for this year.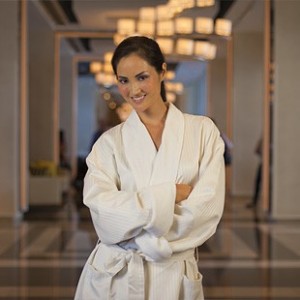 Spa Wraps
Spa wraps are another essential when it comes to making sure your hotel spa is properly stocked. Made of Microfiber, velour, Basic Waffle, or Knit Waffle, our wraps make an easy cover-up when going from one treatment to another, from the bath to the changing room, or in any situation where guests need something quick, absorbent, and stylish as they transition from one activity to another. Created in one-size-fits-all, they can also be ordered in plus sizes as needed.
Our beautifully crafted spa wraps are made with either 100% combed cotton velour or a blend of 67% cotton and 13% polyester, or 100% polyester. The Microfiber version comes with a delicious French terry lining that makes it extra soft and absorbent. Measuring 24" long for men and 32" long for women, they look just as good as they feel.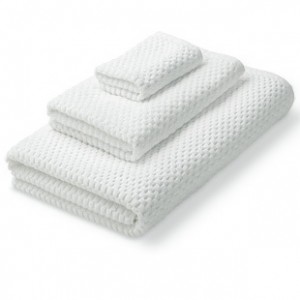 Customizing Your Logo or Emblem
With many selections in varying materials, you can pick the robe or wrap that compliments your needs, always remembering that each one can easily be customized. Our design experts will help you promote your brand with customized embroidery depicting your logo or emblem to help your guests feel like they are truly a part of your unique and special club. And if you have an in-hotel boutique or online shop, all the better when you can offer your Boca Terry luxury robes appointed with your hotel's design.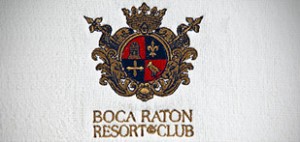 Headbands
There are other amenities that provide that special touch to let your guests know you are thinking of their comfort. A simple headband to keep hair off the face during facials is extremely important. Ours come in velour, basic waffle, or microfiber. Coming in just one size, they easily adjust to the wearer with a beautifully stitched Velcro closure.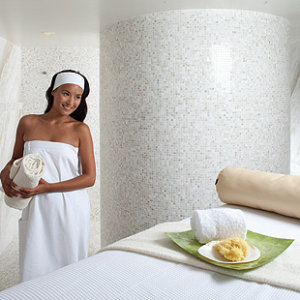 Slippers
Slippers are another essential. Our soft and absorbent models come with either a closed toe, open toe, or an open toe with a Velcro closure that allows for adjusting according to the size of the wearer's arch and toe span.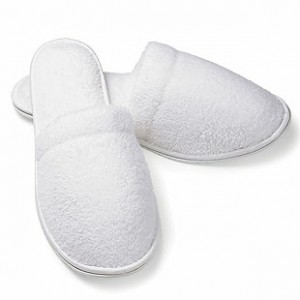 Towels
Towels are as critical as bathrobes when it comes not only to convenience, but also when defining your brand. When your robes feel as rich as the impression you want to make, you can guarantee that your guests will notice. Boca Terry has two exceptional collections:
•    The Resort Collection, consisting of state-of-the-art looping and weaving processes found in our high quality terry cloth washcloths, hand towels, bath sheets, and bath mats
•    The Sunny Lane Collection, consisting of the highest grade cotton washcloths, hand towels, bath sheets, bath mats, and beach towels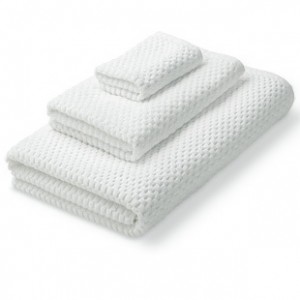 Blankets
Our Basic Waffle blanket is another terrific addition. Sizes come in the following:
•    Twin: 66" x 95"
•    Full: 80" x 90"
•    King: 108" x 102"
Contact Us Today
For more information on our satin bathrobes and other must-have spa amenities, please contact us today using our online form or by phone at (877) 421-6001.
Share this item with friends