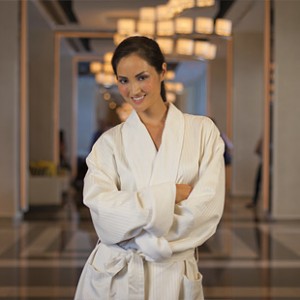 As one of the most respected hotel and spa suppliers of quality cotton products, we are known for our sumptuous, modern, and functionally designed bathrobes and bathing accessories. Some of the most popular items are our satin bathrobes, meticulously created with comfort and a sense of luxury in mind to give clients the greatest sense of pleasure possible.
Perfection and Innovation
Our wholesale division is dedicated to providing pieces that soothe the senses, and our satin bathrobes are a great example of how we so beautifully succeed. Manufactured in our own factories under the eye of vigilantly trained experts, no detail is missed when it comes to each process. Every single piece of merchandise we create has been tested and has passed our rigorous standard for quality, durability, and comfort. With our main offices in Florida, California, and Hong Kong, we are proud to supply our clients with exquisitely made products that speak of our dedication to both perfection and innovation.
The Pink Kimono Bathrobe
One of our best selling items is the Pink Kimono satin bathrobe in one-size-fits-all. A symbol of refinement and elegance, the kimono has been a staple in Chinese and Japanese cultures for centuries, where they denoted comfort, style, and often social ranking. Today the kimono retains its sense of élan, even as it takes on a more informal appeal. Our version bows to a luxurious femininity that is evidenced in its flowing T-shaped line in the palest of pinks. Made of 100% polyester, it measures 36" long with a perfect 17" sleeve length that drapes over the body like floating cherry blossoms. Easily customized, a meticulously embroidered logo of your hotel can be added to the robes to bring them an added appeal.
The Satin Stripe Bathrobe for Men and Women
The Satin Stripe bathrobe in Kimono or Shawl Collar style is a marvelous fusion between luxury and function. Lined with French terry knit made up of 80% cotton and 20% polyester, the robe is the apotheosis of comfort as it absorbs moisture, thoroughly enveloping you as you step out of the shower, pool, or hot tub. With double belt loops, the robe adjusts according to the height of the waist, and a convenient hangar loop on the inside of the collar makes it easy to fit over a hook. Ample pockets give these one-size-fits-all robes their final flare, providing both women and men with a stylishly relaxed way to lounge during their hotel stay. Add to this the opulent roll up collar and cuffs on the Shawl Collar model and you have the perfect formula for pleasure. Customize the robes with your hotel logo, and your guests will never forget where they experienced the kind of comfort and ease that is otherwise so difficult to find.
With a mission to making sure that our clients receive the best customer care along with the finest products, we continue to solidify our long-term relationships with hotels and spas all over the globe. For more information on our wholesale cotton bathrobes for hotels, please contact us. If you are looking to purchase retail, please visit http://shop.bocaterry.com.
Share this item with friends