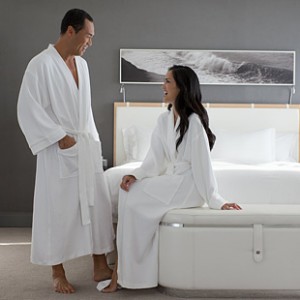 Even though we know things are going to change for the better, right now all over the world, we're still counting pennies as we wait for the economy to bounce back. For many of us, the days of spa vacations and pampered visits to the masseuse have been put on the backburner as we just don't have the extra money to spend.
Finding the Stress Relief You Need
There is never a need to feel an ounce of deprivation when it comes to finding the stress relief you need. All it takes is a little bit of imagination and some essential elements, and you can create your own personal spa environment right at home.
Feel Like Royalty Without Breaking the Bank
At Boca Terry, we believe that luxury is a right for everyone, rather than a testimony to a big bank account and a lot of time on your hands. This is why we began our affordable luxury bathrobe line those many years ago, helping each one of our customers feel like royalty without having to break the bank.
Inspiring the At-Home Spa Experience
Our mission has always been to provide both women and men with beautifully designed and impeccably crafted bathrobes that are modeled for comfort, functionality, and style. By donning any one of our magnificent robes, you will be inspired to create your own spa experience, right in the comfort of your own home.
Creating a Magical Environment for Ultimate Relaxation
To create your at-home spa, you'll need only a few products to create a magical environment and provide just what you need to experience that deep relaxation you deserve. Casting a spell on your bathroom with as many candles as it can hold is the first step towards setting the scene.
Shedding the Cares of the Day
Before starting, make sure you have created room in your schedule to enjoy several hours basking in the luxurious setting you create. Your treatment should be for as long as you need, with no sense of urgency and no sense of needing to be anywhere else but where you are. This is the essence of relaxation, of letting go, and of helping you feel renewed, centered, and balanced. This is the way to shed the cares of the day and keep them from accumulating.
The Benefits of Almond Oil
Buy a bottle of pure almond oil, which is one of the simplest, affordable, and most effective ways to soften and moisturize the skin. Because almond oil is loaded with many vitamins, it is extremely good for the body, with no additives or other chemicals to cause allergies or other possible reactions.
Mineral Salts for the Bath
Fill your bathtub with course kosher salt or any other type of natural mineral salts. As the tub fills, daub some almond oil on a piece of cotton to remove your makeup. If you have normal to dry hair, you can also rub it through your damp or wet locks to give them a deep moisturizing treatment while you soak in the tub.
Close Your Eyes, Empty Your Mind
With candles lit and soothing music playing, let yourself sink into the warm bath water and feel how all the stresses of the day melt away. Close your eyes and let your mind empty as the music and the candlelight caress your skin.
Calm the Nerves, Soothe the Soul
The steam from the bath will open your pores, allowing the healthful properties of the mineral salt to help calm the nerves and soothe the soul. If you have put the almond oil in your hair, the heat will help it to penetrate each follicle, creating a healthy sheath to protect it from split ends.
Preparing for the Next Step
Once you feel ready to emerge, dry yourself off with one of our fluffy Boca Terry towels to absorb every drop of moisture as you prepare for the next step of your relaxation. Now its time to call in your partner, who should be ready and willing to help you accomplish the most important task: the massage. Promise that you will reciprocate on an at-home spa treatment date created specially for him or her, and you will have a more-than willing accomplice.
The Massage
Just before you are almost dry, have your partner gently apply the almond oil to your entire body, starting with your feet and working up towards your neck, leaving no area untouched. First the back of your body, and then the front and you will feel the stress being kneaded away as you release into loving hands.
The Sensuality of Touch
If you don't have a partner, take your time to massage the oil into your skin in the same way, starting from your toes and working your way up to your shoulders and neck. Of course there will be areas you can't reach, but just the act of taking time to work the oil into your muscles will help you unwind.
Enjoying the Effects of Massage
Covered with a large Boca Terry bath towel, let yourself enjoy the effects of the massage, feeling the candles glowing around you and listening to the soothing music that still plays. Perhaps instead, you choose silence, where you can drift off to a comforting sleep, letting the almond oil perform its moisturizing effect.
The Boca Terry Bathrobe
When you feel ready, it's time to reap the full rewards of your in-home spa treatment by stepping into the Boca Terry bathrobe that awaits. This is the culmination of a do-it-yourself luxury pampering session and we're sure you have wisely chosen just the right bathrobe to suit the occasion.
The Essence of Luxury
Perhaps you ordered one of our famous hooded terry cloth models with the oversize hood, deep pockets, and double belt loops for adjusting so perfectly to your waist. Considered the essence of luxury, this robes is designed to wrap around you like a cloud, absorbing every drop of moisture as it helps you retain the benefits of your treatment.
Creating a Weekly Ritual
Take your time to feel the beauty of all that has transpired. You deserve to be pampered, so revel in the sensation of total pleasure. Your bathrobe serves as the perfect symbol of loving yourself enough to set aside the time for deep relaxation. Make this a part of a weekly ritual and you will feel the payoff all week long.
Our Sterling Reputation
It is not for nothing that we enjoy a sterling reputation for our inventory of exquisite robes. This is what has brought many of the top hotels, resorts, spas, and bed and breakfasts to our door. Supplying them with a range of styles, we are constantly filling re-orders, as well as the new orders that come in from the exceptional word-of-mouth about our high quality materials.
Taking Joy in Our Products
By bringing our robes to our retail public, we feel that we are accomplishing an important service. We believe in the balance of work, play, and recovery, and it is by helping you recover your sense of well being that we take joy in selling our products.
Gaining More Than Money Can Buy
We are proud that we are helping people feel good with every robe we sell. By following our simple yet profound at-home treatment tips, you will have spent next to nothing in your purchases, and will have gained far more than money can ever buy.
Contact Us
For more information on purchasing one of our luscious retail bathrobes for your at home spa treatment, please contact us by filling out our online form or by calling us at 877.421.6001.
Share this item with friends