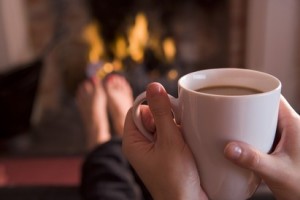 The weather is bad and you've got the day all to yourself. You watch the rain from the comfort of your abode and are as happy as a clam cuddling up with a pot of tea and a good book.
The weather is good and you've got the weekend all to yourselves with nothing on the agenda. The balcony calls, and all your favorite magazines and newspapers are waiting to be enjoyed.
The Ideal Uniform for Lounging
No matter what the scenario, a relaxing day at home is a way of enjoying your own little piece of paradise, filling it with all the things you love to do, even if that means doing nothing at all. And of course, the ideal uniform for whatever it is you choose to do is a Boca Terry shawl bathrobe and matching slippers.
Having a Set Of Your Own
Maybe you found out about us from that last hotel stay where the robes were so yummy that you almost extended your vacation another two days. Or maybe you saw one draped around a friend who looked almost criminally satisfied as he or she lounged about looking like a movie star. Whatever the scenario, you had to have a set of your own.
Impossible to Resist
What makes a Boca Terry shawl bathrobe and slipper set so essential? Besides the fact that they make you feel like a million dollars, they have an effect that is so startlingly immediate that they are impossible to resist.
Receiving Your Order
You put in your order and now these gems lie before you, ready to wrap around your body and feet. Sumptuous, luscious, delicious, cozy, comforting, containing, fashionable, practical, and comfortable are just some of the adjectives that come to mind as you dive into the magnificence of your purchase.
Returning to a Natural State of Comfort and Bliss
From the moment you drape one of our creations around your body, all of the cares of the world fade away into nothing. We have countless testimonials attesting to this fact, and we know it is true because we've designed our robes to help you shed stress and tension in order to return to a natural state of comfort and bliss.
The Luxurious Feel of a Perfectly Made Robe
A Boca Terry shawl bathrobe is one of those things that make living worthwhile. Sure you may have other robes hanging on your bathroom hook. But they will all fade into oblivion the moment you experience the luxurious feel of a beautifully woven and perfectly made Boca Terry.
Closer to Paradise
The shawl style is an exceptional choice as it allows you to turn up the collar around the neck. When there's a chill in the air, when your hair is still wet, or when you simply need a little extra comfort, feeling the soft material nestling against your skin will bring you a little bit closer to paradise.
The Perfect Gift
Our shawl collar bathrobes come in 100% combed terrycloth or cotton velour. Made in one-size-fits all, they are ideal for both men and women. They also can be ordered in plus sizes. With double belt loops for easy waist adjustment, superlatively generous pockets for holding your cellphone, keys, or other small sundries, and a hanger loop for easy draping over a hook, they make the perfect gift to yourself or a friend.
Like Walking on a Cloud
Our slippers are made with a closed or open toe in a slip on style or as an open toe Velcro wrap to fit any size arch and any width foot. Cozy and soft, wearing our Boca Terry slippers is like walking on a cloud, which is the perfect accompaniment to our celestial shawl robes.
The Ease of Buying Online
Buying retail or wholesale from us is extremely easy. If you are already a customer, then you know that our online store makes it easy to find just what you are looking for when it comes to satisfying your guests. And because we believe that luxury does not have to cost an arm and a leg, our prices make it easy for you to stay within your budget.
Made to Last
All of our products are made to last. Using the finest materials and the most highly refined methods of production, the fabrics will outlast most commercially made robes and slippers that are out there today. Because we spend concentrated time on training, every stitch and loop is made with the utmost attention to detail. In fact, every member of our team is inspired to help create products that look and feel like one of a kind. This means that with every washing and drying process your robes and slippers must endure, the quality remains at top standard.
Impeccable Customization
Our digitized services allow you to easily send us your artwork so that each piece you order can be customized with the design of your choice. You can also work with our design experts to come up with artwork that best suits the image you wish to project. If you are a hotel, spa, cruise line, hospital, or similar establishment, there is no better way to advertise your brand than with your own logo placed on every piece.
Prompt Deliveries
With warehouses conveniently placed on both the West and East coasts, as well as in London and Hong Kong, we are able to make prompt deliveries on your orders. Whether you are a private customer or are ordering for a hotel, spa, cruise line, casino, or other type of hospitality establishment, your order is important to us, no matter how small or large the quantity of items.
Keeping Your Guests Happy
When your guests curl up in their suite, by the pool, or in a private nook that invites dreaming and doing nothing, let them have the benefit of a great robe and slippers. People always take note of these amenities, to the point that even if your service is tip top, your rooms are outstanding, and your location is ideal, if your robes and slippers are not up to par, everything else will slip from memory the moment your guests return home.
Keeping Your Ratings High
On the other hand, even if there is a slight misstep in your service or otherwise, the Boca Terry robes and slippers will always be remembered and your rating for this attention to comfort will be noted. In today's world of online customer ratings, you cannot afford a single oversight, especially when it comes to helping guests feel as pampered as they deserve.
Providing the Perfect Gift
Many of our retail clients find that ordering a shawl robe and slipper combination is the perfect answer when it comes to the gift for the person who has everything. It is also makes a terrific anniversary or birthday present, as well as an unexpectedly generous giveaway for special events. With the initials of the recipient embroidered on the collar or the logo of the event placed strategically on the front, a Boca Terry robe and slipper set is sure to be treasured forever.
Contact Us Today
For more information on our shawl bathrobes and slippers, as well as other designs, please contact us today!
Share this item with friends