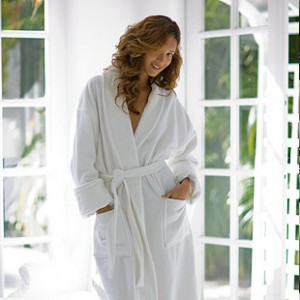 Incredible absorbency.
Total comfort.
Elegance encasing the body.
That's what a real robe should feel like, and that's what Boca Terry provides with each perfectly plush product. From touchable soft bathrobes to towels, slippers, and spa accessories, the fabrics and presence within the luxury industry provide their customers with an experience in luxury unlike any other.
Boca Terry has left its mark around the globe, where beautiful robes can be found waiting for visitors among the grandest addresses–the Ritz Carlton, for example, and some of the finest 5-star hotels across Europe and the Far East. Boca Terry is a family-owned and operated business with decades of experience from the design to manufacturing of their high quality offerings.
The company, based in Deerfield Beach, FL, not only provides luxury bathrobes to the hotel, spa, promotional products, and health care enterprises, but makes a connection on a far more personal level. If one is seeking style, relaxation, and warmth, Boca Terry features a wide array of robes to extend the after-bath experience.
Take the classic shawl collar robe in velour. If there were ever a bathrobe to curl up in and help you de-stress, this is it. Super soft velour in a timeless shawl collar styling offers the wearer exquisite comfort. Boca Terry's offerings include plush shawl collar velour robes in 12 oz., 14 oz., and 16 oz. weights, all in 100% combed cotton velour. The robes measure 52″ down the center back length with a 22″ sleeve length, and are fashioned with a belt and two generous pockets to add practicality to an already sleek design. In addition, certain fabric weights are offered in larger sizes.
Boca Terry also sells bathrobes in various designs–Basic Kimono, Hooded, Velour Stripe, Knit Waffle, Checkered, Fleece Kimono, Mini Stripe, Microterry, Kimono Waffles, Microfiber, Satin Stripe, Microtec, Shawl Waffles, and Velour Stripe.
The company is ahead of the curve when it comes to considering its impact on the environment. Boca Terry understands and holds a 'Going Green' philosophy, so much so, that its experts came up with a perfect 'green' bathrobe for the hotel industry. The micro-terry robe is manufactured out of recycled plastic bottles and the materials are intelligently processed, without sacrificing quality or comfort.
The elegant 'green' bathrobe wears the Boca Terry Green 'recycle' symbol proudly on the inside tag to show that the garment is the real thing–100% green!
Boca Terry has everybody covered, so to speak, from cruise lines to the happy bride and groom and the whole wedding party. Custom robe lines are not a problem for Boca Terry, no matter the taste, requirements or occasion. Promotional product ideas are beautifully executed and celebrity clients can be provided with personalized robes, a detail that will not go overlooked.
Boca Terry continues to leave its perfectly plush luxury bathrobes in every corner of the world. Everyone deserves to be pampered, and there is no better way to do so than wrapping oneself in a Boca Terry bathrobe or experiencing their full line of products. View the full catalogue online at www.bocaterry.com and indulge your senses.
If you have any questions to ask or need further information, please do not hesitate to contact us.
Share this item with friends