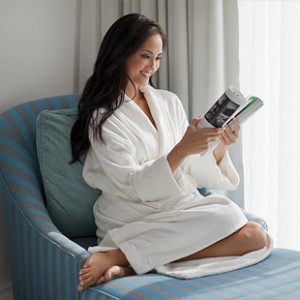 What's Organic?
In recent years a booming industry has emerged in clothing production that uses organic fibers. The clothing is defined by what is not included in the manufacturing process.  By eliminating unnecessary additives like pesticides and herbicides in the growth of the raw materials, skin will finally breathe!
It Is The Details That Make Or Break A Company
When visiting any luxury property, the first thing a guest will do is check the details. One of the most important details is the finishes in the personal areas of the suite like the bedroom and bathroom. Discerning customers know quality when they see and experience it. After all, they booked a stay at a luxury hotel. It is for these discerning customers that a simple item like a bathrobe be of top-notch quality.
Creating A Memory
Quality bathrobes, a perfectly delicious mint on a pillow, and a wonderful jacuzzi are just a few of the details that create an instant and lasting memory for a guest. When guests arrive back at their rooms after a long day of business meetings or leisurely sightseeing in a new city, the first thing they want to do is relax. After a wonderfully luxurious jacuzzi experience comes an aspect often wrongfully overlooked by hotel management, the lounging. Lounging in one's private suite or poolside in an organic robe is one of the most delightful experiences guests can have. Forget the beautiful art galleries, bistros, and neighborhoods of a vacation spot, it is the robe and the lounging that will have the guest longing to come again.
A While Back
Gone are the days of lowered expectations! The new breed of luxury traveler for the most part is much more savvy than the travelers of yesteryear. With inventions like the internet and television stations centered around traveling, potential guests to any luxury hotel will come armed with an arsenal of expectations. The days of luxury hotels offering institutional linens and robes has drawn to a close and a new generation of hotel managers and concierges are playing catch-up on the modernization of their hotel's brand image. An image of luxury and style!
A Worthwhile Investment
The reason why hotels and luxury properties stay in business is because they genuinely care about the comfort of their guests. They also understand the importance of a brand image, and its overarching impact on their business. Part of the excitement of booking a stay at luxury hotel is the anticipation of the memories that guests will take back to their normal lives. It is because of brand consciousness that it is important for a hotel to invest in necessary details like organic bathrobes. With the movement toward green living, organic bathrobes will show guests that the luxury hotel they choose to stay at is as discerning about their comfort as they are the state of the environment. When deciding on which brand of organic robes to invest in, one company stands above the rest because of its attention detail and its enthusiasm for helping hotels and luxury properties in retaining their valued reputations. Boca Terry is that company. Check out BocaTerry.com and see the quality and attention to detail for yourself.
Share this item with friends